AFTER CHRISTMAS SALE


Tues, Dec 26 - Sat, Jan 13




Over 250 regular price bolts




40% off

including children's, 30's,
Kim Diehl, Jo Morton & Xmas!


Minimum 1 yard cut


LOTS of kits, precuts, FQ bundles, all Xmas books & patterns
30% off!
ALL Xmas FQ's Only $2
Xmas F8's Only $1
Clearance fabric normally $6.00 per yard
NOW ONLY $5.50 per yard!
Clear a bolt and get it for only $5.00 per yard!
Minimum 1 yard cut.


Quilting 200
Taught by Robin Heinen
Class meets meets for 3 sessions:
Saturday, January 6 1:00 - 3:00
Saturday, January 20 10:00 - 12:00
Saturday, February 3 1:00 - 3:00
$20 each session.

This class is for a seasoned beginner who knows the basics of quilting or someone who has completed Quilting 101.

In this class you will build your block knowledge by making 6 different blocks with different components that will carry through your future quilting projects. Some pre-class cutting is required to give you more time to actually work on your project during class. This project will require 3 separate classes with homework required between classes. Classes are $20 each.


Click here for a list of fabric, supplies and preparations needed for class. Call the shop today to register! (815) 239-1026.
Applique Club
4th Saturday of each month
10:00 a.m. - 3:00 p.m. $5.00 Fee
Join us to work on a new applique project, bring a project you've been meaning to finish or learn how to use a new applique method: needle turn, prepared edge, fusible, interface & turn. An instructor is available for each method, each month. Reservation is not required but encouraged.
In January we'll be looking at the Oh So Sweet Cottontails Cottage Applique Quilt by Bunny Hill Designs, along with several little projects included in that collection.
Cottontail Cottage Kits arriving in January.
Simply call the shop at (815) 239-1026 to let us know you'll be there and then join us and enjoy the fun of applique!
Paper Piecing 101
Taught by Robin Heinen


Saturday, February 17




10:00 - 3:00



This class will take you through the basics of paper piecing as well as provide helpful tips and hints. Designed to be simple enough for the beginner or the advanced quilter who wants to learn this easy method of piecing.
Class is 10:00 a.m. - 3:00 p.m. with an hour lunch break. Bring a sack lunch or order in from a local eatery. $20 per person. Kits of PRECUT fabric available for $10 to make the project similar to photo. Kits include all fabric for top. You will need additional FQ for backing and 13" x 15" piece of batting.

Call the shop at (815) 239-1026 to register!

Hand Embroidery 100
Starts Tuesday, February 6 6:00 - 8:00
Beginners welcome!!! Learn 26 basic embroidery stitches in this stunning yet simple wool embroidery project.
Class meets for 5 weeks on Tuesday evenings from 6:00 - 8:00 p.m. Coffee and dessert will be served. Pay $10 per session or $45.00 total if you prepay all sessions together before or on the first night of class.
Customized kit ($40) includes a 64 pg. Hand Embroidery Stitch Booklet, Bohim chenille needle pack, your choice of Snippets wool 5" bundle, your choice of 7 solid Cosmo floss and 3 variegated Cosmo floss, F8 of muslin to practice stitches and a 12" square of white wool felt for background.
Join us to have fun, meet new stitchers and learn this treasured, vintage needlework.
Space is limited. Call the shop today to make your reservation at (815) 540-0150.
Interested in learning Punchneedle?
We are now carrying Punchneedle patterns and supplies!
Punchneedle is a technique using a hollow needle that is threaded with a thread or fiber. When the needle is punched into the fabric, it leaves a little loop of thread on the other side. The loops are repeated to fill in a design. This is a fun, easy and relaxing art form to learn! Patterns are small and easy to use almost anywhere!
If you are interested learning Punchneedle and would like to attend a workshop, call the shop to put your name on a list. We are working on scheduling a class in early 2018 (Jan or Feb).

Here are just a few of the patterns we've recently received, as well as the running chicken above!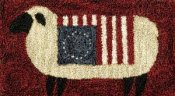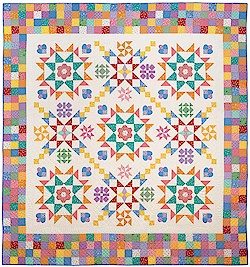 Aunt Grace's Basket of Scraps
30's BOM
Starts in March

Click here for more info and to sign up!

Limited spaces available.



Watch for the January Newsletter for info on:



- Kim Diehl's new Stitch Along & Simple
Whatnots 7
- Kaffe Fassett Mystery BOM starting in
March!
And more!!!!!


For a complete list of classes and events
and to shop online, visit: