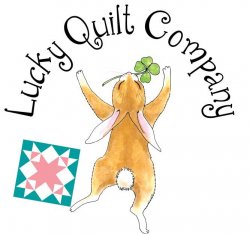 www.lucky2bquilting.com (815) 239-1026
421 Main St. Pecatonica, IL 61063
Store hours: Mon 10 - 5, Tues 10 - 7, Wed - Sat 10 - 5

Lucky Quilt Co. is very lucky to have two wonderful quilters to provide quilting services for our customers.

Both ladies do a superb job and are a delight to work with!
You can drop off your quilt at the shop for Sue Drelicharz during business hours and she will contact you by phone and email to discuss your quilt, quilt designs
and thread colors.
Kathi Swanson meets with customers
in the shop to discuss your quilt,
quilt designs and thread colors.
Kathi will be in-store on the following Tuesdays
from 2:00 - 4:00
to meet with customers:

May 1
May 15
May 29

If you are only picking up your quilt,
please go straight to the checkout counter.
There is NO NEED to take a number
if you are only picking up a quilt.

If you have questions, call the shop at (815) 239-1026.

For a complete list of classes, events and to shop online
visit us at: www.lucky2bquilting.com