THE JANOMES ARE HERE!
The machines are on display and ready for you to stop in to take a test sew and play a bit! Even if you are not in the market for a new machine, you are welcome to come in, gaze, and ooh and aah at the wonders these machines can do!
Purchase a Janome by May 31, 2018,
and get a chance to win a $150 gift certificate
to Lucky Quilt Company!

We will have an in-house service tech
and will be offering service soon!

May Specials
Every book in the shop 30% Off!
Quilt Books make great Mother's Day gifts! (for you and for mom!)
Clearance Fabric ONLY $3.99 per yard
while supplies last! Minimum 1 yard purchase
Clearance Books ONLY $3.00!!!
Clearance Patterns ONLY $2.00!!!
Select FQ's remain only $1.50 while supplies last!
Select F8's remain only $1.00 while supplies last!
Join us in
Welcoming Lesley!
We are delighted to welcome Lesley Gebbie to our Team at Lucky Quilt Company. She is our Janome Sewing Machine Specialist! If you visited her shop, Acorn Quilts on E. Riverside in Rockford, you'll know what exceptional taste and talent she has! We couldn't be 'Luckier' to have Lesley as part of our team.
Please join us in welcoming Lesley to our shop! Stop in to say hi and check out our great selection of Janome Sewing Machines!
Ready, Set, Move!
It's been a whirlwind of fun getting ready for our move and expansion to the 2 spaces next door! (See pics below.) That's right, in case you haven't heard, the shop is moving to the 2 storefronts just south of the current location. The space where the shop is currently located will become our classroom and sewing center. That means Lucky Quilt Company will occupy 3 store fronts on Main Street! We've made this decision because the 2 storefronts to the south of our current location are connected inside and allow us a larger area to display the pretty new Janome machines as well as lots of beautiful fabric! The new shop space will also provide for 2 cutting and checkout areas and even more comfortable seating - places to relax while you ponder fabric and pattern choices, browse through a new book or magazine, chat with friends and enjoy a complimentary cup of coffee, tea or cocoa. You'll even be able to step downstairs for lunch at our local diner without ever leaving the quilt shop!
Need a recharge from the craziness of life, stop in and get inspired by beautiful colors, textures and creativity!
Comfy seating, cup of coffee and inspiration always FREE!

New space is on schedule to open June 1!
Watch for Grand Re-Opening Event in June!!!!

Friday Happy Sew, May 25 & Applique Club, May 26
are cancelled because we will be moving
but the shop will be open!!



Left: Professional painters preparing the exterior of the 2 store fronts soon to be the new expanded shop!


Right: The upper frontage is painted and waiting for the new Lucky Quilt Company signs! Exterior trim work in process!

Wool Embroidery Workshop


4th Tuesday of each month




6:00 - 8:00, $10 per month


Image at left is the May project!



Learn something new each month, perhaps a new stitch, maybe some notion knowledge or even floss facts, or possibly make a mini project. This will be a great time to use up some of those scraps of wool. So come and stitch a bit and let your creativity flow! All skill levels welcome! Bring wool scraps, needles , scissors and an assortment of threads to begin!

To reserve your seat, call the shop at (815) 239-1026




Northern Illinois Shop Hop 2018
June, July and August!

Can you believe this starts in only a few weeks!?! You won't want to miss the fun! There are new shops on the hop this year and the prizes are great!

Get your QB's (Quilting Buddies) together and start making a plan! Click here for all the details!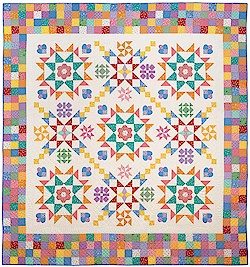 Aunt Grace Basket of Scraps, 1930's
9 Month Block-of-the-Month
See this gorgeous quilt hanging in the shop! Quilt features the "Aunt Grace Basket of Scraps" collection and includes over 21 yards of fabric to complete a 90.5" x 96.5" for a Queen size quilt or 96.5" x 102.5" for a King size quilt as well as the Aunt Grace Basket of Scraps pattern book designed by It's Sew Emma. Basket of Scraps templates are optional and sold separately.
Reservation fee / Month 1 is $32.00, months 2-9 are $24.99 each plus optional shipping of $5.00 per month. Call the shop to sign up today! (815) 239-1026.


Arriving this summer!
Lori Holt's new
Autumn Love Collection will be arriving at Lucky Quilt Company this summer! The entire collection and quilt kits will be available!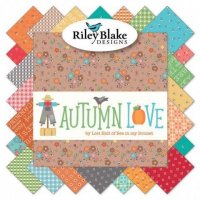 You are invited to
101 Maple Street
Spring has barely arrived but we're already looking forward to fall fun with Bunny Hill Designs! Are you ready? The quail and squirrels are teasing Foxly, who wants to play on the swing. Join all the little woodland creatures for fall fun!
The 101 Maple Street kit includes the fabric, Cosmo embroidery floss kit, and 101 Maple Street pattern to make this darling 65" x 77" quilt. The kit comes packaged in a beautiful, decorative keepsake
box from Moda to store your project in! Reserve your kit before they arrive and receive a Free Foxly pattern!
Kits due to arrive in August!
This collection will also offer these darling mini quilt patterns!

Lucky Quilt Company is a certified
Quilts of Valor Shop.
Join us for our monthly Quilts of Valor Gathering
4th Thursday of each month.
MAY GATHERING IS CANCELLED
DUE TO OUR MOVE. Please join us in June in our new classroom!
We are looking for donations of quilt quality fabric in Red, White & Blue and/or Patriotic prints! Simply put it in the QOV donation bin right inside the door at the shop! THANK YOU!!!!

Online Quilt Calculators



Lilly Street Quilts offers a great online quilt calculator to figure yardage needed for borders, backing and binding.
Click here for the Lilly Street Quilts calculator.




Click the image above to be directed to the Robert Kaufman Quilt Calculator app. This app is available for download on your mobile device.

Visit us online to view our complete list of classes,
events and to shop online.
Lucky Quilt Company





Visit us on Facebook for the latest arrivals and news!