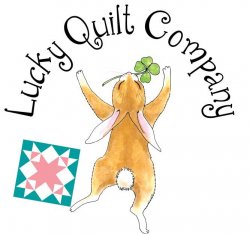 Merry Christmas!
www.lucky2bquilting.com

(815) 239-1026
421-425 Main St. Pecatonica, IL 61063
Store hours: Mon 10 - 5, Tues 10 - 7, Wed - Sat 10 - 5
AFTER CHRISTMAS CLEARANCE SALE
40% OFF Christmas fabric, precuts, kits, books and patterns
(1/2 yard minimum cut, Lori Holt's Vintage Christmas Book excluded)
Watch for many more items to be included in this great
Year End Clearance Sale!

Join us for Friday Happy Sew
Friday, December 28!
Work on any project you'd like, join a group to go out to lunch, make our optional Make 'n Take Project at 1:00, sew until 8:00 p.m.
if you'd like!!!

Click here for more information
Call the shop to sign up today!
(815) 239-1026
Visit our website for a complete list of events and classes!