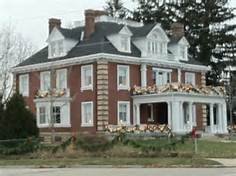 Join Cassie for our annual
Jones Mansion Retreat
in Mineral Point, WI
February 28 - March 3
3 Days, 3 Nights


We need at least 3 more people for this retreat! If you are considering this luxurious retreat back in time, please reserve your spot this week!
We host retreats at various wonderful locations, but when I go to Jones Mansion, my soul is on retreat. - Cassie

Jones Mansion is a beautiful early 1900's mansion filled with grace and charm. Join us for a trip back in time at this gorgeous getaway.


At Jones Mansion, you are free to set your own schedule and we encourage you to investigate the many unique spaces within the house where you can hide with a book, curl up for a nap or snuggle up near one of seven fireplaces.

The Mansion's seven bedrooms comfortably accommodate up to twelve guests. All bedrooms are furnished with luxurious twin beds, deluxe sheets and handmade quilts. Both shared and private bedrooms are available.

Having four full bathrooms throughout the house is another great luxury. Each bathroom has a shower and an original claw foot bathtub–perfect for relaxing bubble baths.
Learn more about Jones Mansion by clicking here.



$240 includes continental breakfast each morning plus a specially created Retreat Gift Pouch. Lunches and dinners on your own. Large kitchen is available or join a friend or group to go to one of the fabulous local eateries. Room accommodations include single, double and triple occupancy. Kitchen, dining room, library and gathering room on first floor. Most bedrooms on the 2nd floor. Sewing studio on 3rd floor. There will be someone to help load machines and supplies on Thursday afternoon when we arrive and again to pack cars on Sunday afternoon when we depart.



$50 deposit reserves your spot. Balance due February 16.
Call the shop to register (815) 239-1026.