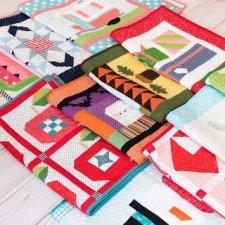 Table Runner of the Month Club
12 Months of Charming Table Runners
March 2019 - February 2020

Sign up for our Table Runner of the Month Club and celebrate each month with a seasonal table runner kit packaged in a exclusive matching keepsake box. These charming table runners will be quick to make with traditional piecing and a bit of applique.



Each kit includes all fabric for table runner top and binding plus pattern tucked inside the matching keepsake box.



Click on image below for larger photo and see month each kit ships.



Subscribe for all 12 months and pay only $29.99 each month for 12 months PLUS receive a FREE PASS for a Friday or Monday Sew-In each month. Call the shop at (815) 239-1026 with a credit card to sign up for the 12 month program.

OR pick and choose your favorite kits and pay $34.99 each (by reserving ahead of time OR deciding after they arrive at the shop each month.)



Note: If you have already signed up for the 12 month program, you will be credited so that you receive the $29.99 12 month commitment price and you will receive your FREE PASS for a Friday or Monday Sew-In! Kits will ship within 2 days of arrival at the shop or will be put on hold at your request to pickup at your convenience. $5.00 shipping fee applies to each kit shipped.



Scissor and Knife Sharpening
including pinking shears
at Lucky Quilt Company
Saturday, March 16 10 - 4
Click here for more info!

For the Love of Janome ....

Janome offers a wide range of machines from lightweight beginner/class models to advanced embroidery machines with pricing to fit every budget!



Come in for a scheduled demo to see what Janome can do for you and receive a $10 coupon good on any regular priced purchase of $25 or more!

Yes, that's $10 OFF your purchase just for spending time with us and learning about the wonderful features of Janome sewing machines! No purchase required. Call the shop to make your appointment today! (815) 239-1026. $10 coupon with demo offer ends April 30!


Learn to make Rugs
with Joyce

(Cassie's mom :)
Joyce works with one student at a time so you get lots of personalized help! Lessons are $12 each and last for approx 2 hours. Wood shuttle is required and available at Lucky Quilt Co. for $3.00.
Lessons available on the 2nd and 4th Friday of each month at 10:00 and 1:00. Space limited as she only schedules 2 lessons per day.
What do you need to bring? 1-1/2 yard cuts
of 2 or 3 different fabrics.
Joyce will show you how to make these beautiful handcrafted rugs and will send you home
with your rug started and well on the way!
Call the shop to reserve your lesson!
(815) 239-1026
Join us for ScrapLab
Wednesday, April 3
10:00 - 4:00, $15
ScrapLab is held on the 1st Wednesday of each month where we gather to make fun projects to help use up our stash! Receive a pattern/technique to use your scraps plus the all day sew-in! Make your project festive for the holidays, charming for your home, or as a special gift! Projects will include table toppers, runners, accessories, stash buster quilt blocks and more! Call the shop to sign up today! (815) 239-1026! Below is the project and fabric (scrap) requirements for April!


Basic Machine Quilting
with Lesley
Saturday, April 6 10:00 - 4:00 $25
Learn machine, needles, thread, walking foot and free motion basics.
Materials needed: Bring your sewing machine and a variety of your threads and needles, water soluable or Frixion pen. Book Recommended: Beginner's Guide to Free Motion Quilting by Natalia Bonner $25.95 Call to sign up today and let us know if you'd like a copy of the recommended book! (815) 239-1026.


Fabric Collage Class
Meets for 3 sessions


April 13 10:00 - Noon




May 4 10:00 - 4:00


May 25 10:00 - 4:00


Session I - Learn how to choose fabric for your collage




Session II and III - Make your Collage with assistance




Learn how to make a Laura Heine Collage! Will need to choose a Laura Heine collage pattern at Lucky Quilt Co. As a beginning project, "Emerson" the dog, "Hip Hop" the Rabbit or "Purrfect" the Cat are recommended. Stop in the shop to view pattern selection. Supplies needed as per pattern requirements.


Class fee $50 Call the shop to sign up today! (815) 239-1026


Around The Neighborhood
Paper Piecing BOM


Starts Wed, April 17




3rd Wed of ea. month 10 - 4



10 Sessions total, $20 each session, includes pre-cutting instructions, papers for paper piecing and the pattern for that months section and a demo.

Finished quilt is 50" sq.

This is an intermediate - advanced skill level. Students will need a lapel stick and a 12" Add-A-Quarter Ruler. Use your own fabrics or

a limited number of kits are available

to make the quilt as shown in the photo for $120. Call to sign up today and let us know if you'd like a kit! (815) 239-1026
.
Let's Disappear


3rd Saturday of each month




Starts April 20, 10:00 - 1:00


$20 each month includes a demo
and a pattern

It seems disappearing quilt blocks are all the rage. We have compiled 15+ disappearing block variations to share with you. Whether a simple 4 Patch, 9 Patch, Pinwheel, or Hourglass, we have something for everyone.
Month 1 - April 20 - Disappearing 4 Patch Table Runner
Approx Size: 14" x 32" Supplies Needed: (6) 5" print squares, (6) 5" background squares, 1/4 yd. border and binding, 1/2 yd. backing fabric. This is a good opportunity to dig in your stash!!!

Call the shop to sign up! (815) 239-1026
Get Ready for our
Spring Cleaning Event:


Swap, Drop & Shop


May 6 - May 11

It's time for Spring Cleaning and finding stuff that we don't want or need any longer (or we simply can't use all of in our lifetime!!!) Sound familiar???
Click here for more info!

Mark your Calendar for the
Sinnissippi Quilt Show!
Sat, May 4, 9 am - 5 pm
Sun, May 5, 10 am - 4 pm
Indoor Sports Center, Sportscore II
8800 Riverside Blvd. Loves Park, IL
- Over 300 Quilts on Display
- Merchant Mall (Stop by Lucky Quilt Co's booth!)
- Unique items at our Member Boutique Silent Auction
- Beautiful Raffle Quilt (Tickets at door $1 or $5 for 6)
- Certified Quilt Appraiser
- Bed Turning: 11 am and 2 pm
- Educational Quilting Demos all day
- Buses welcome/ Free parking
Admission $7


A heart full of gratitude .....
I couldn't be more thankful for being exactly where I've been, a quilt shop owner, over this past year.
As many of you know, shortly after our grand re-opening last June, to launch our new location and Janome Dealership, my husband left our marriage and filed for divorce. Sigh .....
But, rest assured! I am coming through the process stronger than ever and have a ton of exciting ideas and plans I am already starting to implement this year at the shop! I have been enormously touched that so many of you have graciously extended patience, support, encouragement and lots of hugs to me. Thank you. Thank you. Thank you! I also want to thank my outstanding staff for being there for me in every possible way!!! I really, truly am a "Lucky" Quilt Shop Owner! :)

Thank you again for supporting me and the shop and for making it such a pleasure and blessing to be the owner of Lucky Quilt Co! - Cassie Schlais
Arriving this summer!!! Preorder NOW!!!


Granny's Garden by Lori Holt
76" x 86"
Arriving in July
Kits ready early August
Order your kit before June 1 for $169 PLUS get 20% OFF your backing fabric

OR
Order kit on or after June 1
and pay $199

Granny's Garden quilt is made from Lori's new line Granny Chic arriving in July. Kit includes all fabric for top and binding. Kit does not include Sew Simple Shapes, backing or pattern.

Quilt is assembled by following Lori's Granny's Garden Sew Along which starts August 26 at
www.beeinmybonnetco.blogspot.com

Click here to preorder online




Arriving this summer! Preorder NOW!


Granny's Teapots Quilt Kit




59" x 75"

$119.50


Click here to preorder online

















Arriving this summer! Preorder NOW!

Granny's House Pillow Kit
(or wall hanging)
24" x 24" $48.50
Click here to preorder online

Would you like to work at Lucky Quilt Co?

If you would like to work a few hours a week at Lucky Quilt Company and you have the experience or skills listed below, please stop in and fill out an application. I am NOT in need at this time but I'd like to find 1 or 2 special quilters who would enjoy being a part of our shop at some point in the future.
Experience/Skills Required:
- A quilter or sewist for a minimum of 5 years
- Working knowledge of Janome Sewing Machines
- Demonstrated sales experience working in a retail environment
- Basic computer knowledge
- An attitude to provide exceptional customer service and hospitality
- Must love people and serving others!
- Interest in helping to make shop samples

Row by Row Experience is coming!
You could win a $75 Gift Certificate on May 1!!!
This year's theme is food or shall we say taste! That could be cookouts, treats, sweets, ice cream, or ????? We are offering a $75 gift certificate to the winner of our "Design our Row" contest! The only catch is that our Row has to include a bunny... and NOT as dinner! Get creative!
The Row size this year can be

18" x 18"

, 36" x 9" or OR 27" x 12", horizontal or vertical.

Row designs submitted must include a completed sample or color drawing in actual size. It must also include fabric requirements, and directions. Want to win a $75 gift certificate??? Submit your design to Lucky Quilt Co by April 20. All entries will be reviewed and a winner chosen by May 1.
Click the link below to visit our website for
a complete list of classes, special events and more!
Lucky Quilt Company
421 - 423 Main St. Pecatonica, IL 61063
815-239-1026
Hours:
10 - 5 Mon, Wed, Thur, Fri, Sat
10 - 7 Tuesday,
Closed Sunday


Lucky Quilt Company