Quilt Show !!! Quilt Show !!! Quilt Show !!! Quilt Show !!! Quilt Show !!!
Join us at the
Sinnissippi Quilters'
Out of this World Quilt Show

May 4, 9:00 - 5:00
May 5, 10:00 - 4:00
at Indoor Sports Center, SportsCore II
8800 Riverside Blvd. Loves Park, IL 61111


See new quilts and kits introduced just for the show!


Click here for more info and to print a $1 off coupon.


Stop by our booth WEARING your Lucky Quilt Company




T-Shirt or Tote

and receive a special gift!

Join Cassie for a


FREE Log Cabin Trim Tool Demo


Saturday, April 27 at 1:00


in our new additional classroom in the shop!


Reservation requested but not required.

Have you purchased one of these but never used it? Or perhaps you've never tried one? These marvelous tools come in 4 sizes and make Log Cabin blocks a snap WITHOUT all that precutting!
Perfect for scraps! Join us to see how!
Every product used in the demo will be 20 - 30% off
the day of the demo!

Call the shop to let us know you'll be joining us!
(815) 239-1026
Mark your calendar for our
Spring Cleaning Event:


Swap, Drop & Shop


May 6 - May 11



We are in full swing of spring cleaning and finding LOTS of great stuff that needs a new home!





SWAP - May 11


Join in for the fun of a FQ swap

(kind of like a cookie exchange,
but this is a FQ swap!)

Registration required.
Click here for more info
DROP - May 6 - 11
Check out the list of charitable groups looking for donations of fabric, thread and more! Clean out your unwanted, unneeded stash and supplies and donate to one of these great groups!
Click here for more info

SHOP - May 6 - 11
At Lucky Quilt Co we're leaving no fabric, book, pattern or notion left unturned!
Event will include special offers like 5 yard bundles for only $25, kits at 50% off, special gift items on sale, select Janome machines at crazy great prices!!! Plus a chance to win a gift basket packed with great stuff. Cassie will have lots of fabric and treasures from her personal collection for sale in a vintage cupboard we're calling "Cassie's Cupboard."

Click here for more info
Mark your calendar and start your spring cleaning today!

Check out some of our new classes offered:


Let's Disappear!
3rd Saturday of each month, 10 - 1
$20 each month includes a demo, pattern and half-day sew-in. Learn these fun and quick blocks!
We have compiled 15+ disappearing block variations to share with you. Whether a simple 4 Patch, 9 Patch, Pinwheel, or Hourglass, we have something for everyone.




Around the Neighborhood
Paper Piecing BOM
3rd Wednesday of each month, 10 - 4 $20
Started in April but no worries you can still join in!
$20 each month includes demo, monthly pattern, paper pieces and all day sew-in. This is a spectacular paper pieced work of art! Finished quilt hanging at the shop.


ScrapLab
1st Wednesday of each month,
10 - 4 $15
PERFECT Workshop for seasoned beginners or advanced quilters who want something easy and fun to use up their stash!
$15 includes demo, pattern and all day sew-in.

Click here to learn more about these and other classes we're offering at Lucky Quilt Co.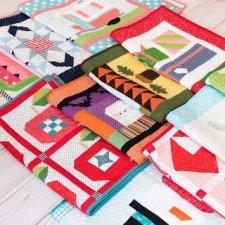 Table Runner of the Month Club
12 Months of Charming
Table Runners
Now - February 2020

Celebrate each month with a seasonal table runner kit packaged in a coordinating keepsake box. These charming table runners will be quick to make with traditional piecing and a bit of applique.

Each kit includes all fabric for table runner top and binding plus pattern tucked inside a coordinating keepsake box.

We still have a few left for April which means you can still sign up for the 12 month program for only $29.99 per month. Otherwise, kits are for sale each month as available and retail for $34.99 each.

Click on image below for larger photo.

Lori Holt is releasing a new book!
Farm Girl Vintage 2
in September 2019
Lori has rounded up 45 unique 6" and 12" quilt blocks inspired by her rural roots. She has also designed 13 new projects in this book, including quilts, pillows, a pincushion, and of course a fantastic new sampler quilt!

Reserve your copy today for only $5
then pay $25 when book arrives PLUS get FREE shipping!
Click here to reserve your copy now
or call the shop (815) 239-1026.

Arriving NOW! Lori Holt's new collection of Shabby Blenders
in 34 colors!

Coming this Summer!
Lori Holt's new Granny Chic Collection and quilt kits!


Click here to learn more.
Pre-order your kit(s) today :)


Please Join us in
wishing Lesley a Fond Farewell

Saturday, April 27 will be Lesley's last day at Lucky Quilt Co, however, we are hoping to have her back as a guest teacher from time to time!

As owner of the shop, Cassie has decided to step up to the role of Janome Sales, Events and Classes. Cassie along with other Lucky Quilt Co staff have started training with Janome Educators and will continue to acquire the knowledge and expertise expected as a Certified Janome Dealer.

Please join us in wishing Lesley well with her new job which is closer to her home so won't require so much travel to work.
Thank you Lesley for helping us get our dealership launched over this past year!
That Town and Country Quilt
starts June 22 at Applique Club
which meets on the
4th Saturday of each month
(Beginners Welcome!)
We will each be working on this quilt at our own pace!

This quilt depicts things you might see from the town to the country. Starting in the city center at night, moving outwards through some light industry, suburbs, trains, roadworks, airport and many other things along the way, it ends up in villages and farms on a bright sunny day, with distant hills around the border. There are lots of things to look for and find in this quilt - including one mouse!


The applique method is fused, raw edge, free-motion, machine stitched applique, with some hand stitched embellishment. There are lots of opportunities for personalizing and making
That Town and Country Quilt your own.
Book of 365 Patterns and complete instructions $59.95

Bundles of all 10 Blue Backgrounds, total of 8 yards of fabric $85.00 and includes free 3/4 yard binding
or you can purchase backgrounds per Round in the Quilt.

Books and Blue Background Bundles available now!


Welcome Doug Dailing
to Lucky Quilt Co!
Doug has joined our team as our
Sewing Machine Service Technician.
Doug is retiring soon from his professional career with the IRS and is excited to be joining the sewing and quilting industry!
Doug comes to us with a background in electronics, IT, various technical repair skills and a love of problem solving!

He is training with Casey's Sewing Center in Beloit and will be on site in our service department at Lucky Quilt Co this summer.
We are delighted to have Doug as part of our team and look forward to introducing him to all of our customers!
Welcome Doug!!!

Lucky Quilt Co. has been selected as the sponsor of the
1st Prize Sewing Machine in the
2019 Northern Illinois Shop Hop!



The 1st Prize Sewing Machine will be a Janome Skyline S-6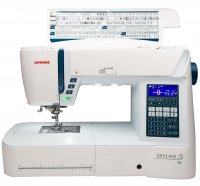 We are so excited to have the opportunity to offer
this prize to the Shop Hop this Year!
Learn more about this amazing new machine by clicking here.
Mark your calendars and gather your friends!
NI Shop Hop starts June 1 and ends Aug 31!
Click here for Region 1 Passport
Click here for Region 2 Passport
Click here for Region 3 Passport (Lucky is in Region 3)


COUPON ... COUPON ... COUPON ... COUPON ...
Any

SINGLE

yard of

regular priced

42-44" wide
fabric for only $8.00!
In store only. Coupon good April 23 - May 31, 2019
One to a customer please.
COUPON ... COUPON ... COUPON ... COUPON ...