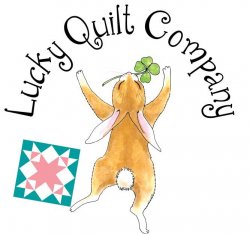 www.lucky2bquilting.com

(815) 239-1026
421-425 Main St. Pecatonica, IL 61063
Store hours: Mon 10 - 5, Tues 10 - 7, Wed - Sat 10 - 5
Northern Illinois Shop Hop
June 1 - August 31, 2019
Ready, Set, Hop!
Receive a 15% discount on your entire regular priced purchase on the day you get your passport stamped! Pssst, a great time to stock up on all the new Lori Holt fabrics that have JUST ARRIVED, at a discount!!! Passports available at each shop or download below. Visit 1, 5 or all 34 shops and it's FREE to participate!
You could win a f
abulous 7-night Quilting Cruise for you and a friend
Plus $600 towards expenses,
a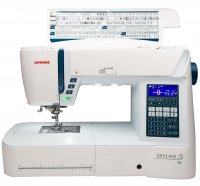 Janome Skyline S-6 Sewing Machine provided by Lucky Quilt Co, a $50 gift certificate from every shop in any region you complete or a $25 gift certificate from any shop you visit.

Sign up for Lucky's first in-store Janome Demonstration!


Saturday, June 22 at 1:00 Cassie will demonstrate the great features of this NEW Skyline S6! Registration requested please. Refreshments served and FREE GIFT to all attendees! :)



Click here for more information about the Shop Hop and to download your passport. Passports also available at each shop!

Lori Holt's New Line of "Shabby" blenders have arrived! All 34 Shades!

Gorgeous colors. Bundles of all 34 shades $99 or purchase separately. Sew-By-Row patterns & kits
available soon!



Farm Girl Vintage Companion
Prints are here!

Farm Girl Vintage Companion Prints will be used in Lori's new book releasing this fall ...
Release date September 2019




Reserve your copy now for only $5




Pay only $25 when it arrives PLUS get FREE shipping!


Click here to reserve your copy today!



Lori's Bee's Knees Book Stand is now available at Lucky Quilt Co. $29.99

New Laura Hiene Collection JUST ARRIVED!


PLUS, Click here for the dates for a Collage Class just scheduled this summer!

Scissor Sharpening by Clark's Sharpening Service at Lucky Quilt Co.
Saturday, June 22
10:00 - 4:00

Drop off ahead of time or wait while they are sharpened!
Applique Club at Lucky Quilt Company
4th Saturday of each month
10:00 - 3:00

Learn various methods of applique, one on one, with a teacher for only $5.00! Learn your choice of fusible applique with a machine, needle turn or prepared edge by hand or the Lori Holt method. Work on your own project, get project suggestions and most of all inspiration!
BEGINNERS WELCOME!
Saturday, June 22 we will be starting the "That Town & Country Quilt" for those that wish to "Build a Village."
This beautiful village is made using raw edge applique with fusible and free motion applique on your machine.
Lucky has all of the blue backgrounds and bundles of batiks if you need a wide range of colors to choose from to build each block. Or, build your village your own style, maybe with 30's prints, florals or Lori Holt fabrics!
This quilt consists of 365 4-1/2" blocks! Yep! BUT DON'T FRET! Work at your own pace! Do 1 block a month or 30! Some people will only make a small wall hanging of 9 blocks! It's up to you. Just enjoy and come together to create!
Join us for a Retreat!
Whether you are a quilter, scrapbooker, cardmaker, or one who enjoys knitting or crocheting, join us for a relaxing creative retreat!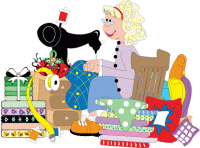 Sleep in Own Bed Retreat
Lucky Sewing Studio, Lucky Quilt Co.
421 Main St. Pecatonica, IL
Mon, July 15 - Thurs, July 18


Want to take part in a retreat but sleep in your own bed and shower at home? Here's your chance! You can have your cake and eat it too!

Enjoy creating, time with other quilters and making new friends with your own sewing table for 4 days where you can leave your machine, projects and supplies all spread out. Work on whatever you'd like or simply catch up on all those UFO's! Arrive as early as 7:00 a.m. each day and stay as late into the night (or into the morning!) as you like. $60 retreat fee includes 15% off all regular price purchases in the shop all 4 days, a special "Lucky" retreat goody bag as well as a complimentary dish of Cedarcrest Ice Cream from Pecatonica's own 3rd Street Station Ice Cream Shop!
Meals are on your own. Often retreaters
enjoy one of Pecatonica's eateries for breakfast, lunch or dinner or they bring their own sack lunch/dinner. Retreat space includes 2 cutting stations, 3 pressing stations, a large screen TV and VCR, a refrigerator, microwave and Keurig coffee maker with coffee, cream and sugar and a water cooler. Retreaters are welcome to bring their own travel iron to use next to their machine. Up to 12 retreaters very comfortably accommodated. Call the shop and reserve your space today! (815) 239-1026.
Torstenson Lodge, Pecatonica, IL
Aug 12 - 15
Sept 30 - Oct 3


Join Cassie to relax in this beautiful 11,000 sq. ft. luxurious log lodge overlooking the backwaters of the Pecatonica River and just 10 minutes from Lucky Quilt Co!
Retreat includes 2 dinners, continental breakfast Tues, Wed and Thurs mornings, 15% off all regular price purchases at the shop all 4 days and a special "Lucky" retreat goody bag. Click here for more information and additional photos. Space is limited. Make your reservation soon! (815) 239-1026

While in Pecatonica, be sure to visit The Workshoppe Summer Market
on Main Street June 10 - June 22.
Stop in to see authentic, hand crafted gifts and decor. PLUS just for stopping in they'll give you a COUPON to use at Lucky Quilt Co for
$1 off any purchase of $10 or more.
You'll thank us for telling you about this great new shopping experience right here in Pecatonica!
Click here to learn more about
The Workshoppe
in the Pecatonica Hardware Store.

Row by Row "Taste the Experience" 2019
Starts June 21
Congratulations to Jennifer Eberley
the winner of our 2019 Row by Row Design Contest!
Thank you Jennifer for designing our Row, making it out of our fabric and providing us with a pattern.
Click here for Classes offered at Lucky Quilt Co including
Quilting 101,
Collage with Laura Heine patterns and
Kids Sew Kool!
Also, join us for Let's Disappear, Scraplab,
Applique Club and Wool Embroidery Workshop!

Join us for a Sew-In at Lucky Quilt Co
2nd and 4th Monday and Friday of each month in Lucky's Sewing Studio right next door to the shop!
Work on your own project, relax and enjoy
meeting new quilters or sewists!
Click here to learn more!


Come celebrate with us in Pecatonica on July 15th
Parade at 9:00 a.m.
Craft Fair & Tractor Show
at 11:00 a.m.
American Mini Pullers
at 1:00 p.m.
Main Street Dance & Live Band at 8:00 p.m.
Be sure to stop in to Lucky Quilt Co!
Main Street will be closed but parking is available on nearby side streets.

COUPON ... COUPON ... COUPON

20% OFF your entire regular price WOOL purchase

One coupon per customer please. Coupon good through June 30, 2019.
Cannot be combined with any other discount or coupon.
No need to print coupon.
Simply mention that you've seen it in the newsletter :)