Scissor & Knife Sharpening
at Lucky Quilt Co. this

Sat., June 22


10:00 - 4:00
Drop off ahead of time or
wait while they are sharpened!


Lucky's First In-Store Janome Demonstration!
Saturday, June 22 at 1:00

Join Cassie for a demonstration of the great features on the Skyline S-6 Sewing Machine!
Refreshments served.
FREE Gift to every attendee!



Registration requested pretty please
815-239-1026
This is the machine you could win if you visit all 34 shops during the Northern Illinois Shop Hop
this summer!
Click here for more info.
Saturday, June 22
We're starting the
"That Town & Country Quilt"
Demo starts at 10:15 a.m.

This beautiful village is made using raw edge applique with fusible and free motion or straight stitching on your machine.
Lucky has all of the blue backgrounds which you can purchase as a bundle or one shade of blue at a time. Bundles of
batik chubby 16th's also available if you need a wide range of colors to choose from to build your village. Or, build your village your own style, maybe with 30's, brights or ???
This quilt consists of 365 4-1/2" blocks! Yep! BUT DON'T FRET! Work at your own pace! Do 1 block a month or 30! Some people will only make a small wall hanging of 9 blocks! It's up to you. Just enjoy and come together to create!
Book needed and retails at $59.99.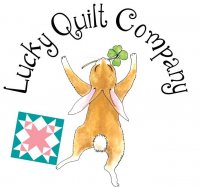 Take a Virtual Tour
of Lucky Quilt Company!

Simply Click HERE to step inside our shop and take a look around!
Row by Row
"Taste the Experience" 2019
Starts Friday, June 21
Starting Friday, June 21 you can get a free pattern for
Lucky's "Bunny in the Garden" Row by Row Pattern
designed by Jennifer Eberley.
Kits available for $12.50




Click here to learn more about
Row by Row Experience.
Click here for Classes offered at Lucky Quilt Co including
Quilting 101, Collage with Laura Heine patterns and Kids Sew Kool!
Also, check out Let's Disappear, Scraplab,
Applique Club and
Wool Embroidery Workshop!

Join us for a Sew-In at Lucky Quilt Co
2nd and 4th Monday and Friday of each month in Lucky's Sewing Studio right next door to the shop!
Work on your own project, relax and enjoy
meeting new quilters or sewists!
Click here to learn more!


COUPON ... COUPON ... COUPON
20% OFF your entire regular price WOOL purchase
One coupon per customer please.
Coupon good through June 30, 2019.
Cannot be combined with any other discount or coupon.
No need to print coupon.
Simply mention that you've seen it in the newsletter :)