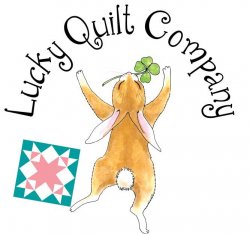 www.lucky2bquilting.com (815) 239-1026
421 Main St. Pecatonica, IL 61063
Store hours: Mon 10 - 5, Tues 10 - 7, Wed - Sat 10 - 5

"Scrap Lab"

at Lucky Quilt Co.
PERFECT Workshop for seasoned beginners or advanced quilters who want something easy and fun to use up their stash!

The
1st

Wednesday of each month
This Wednesday, Aug 7

10:00 - 4:00 $15.00



Receive a pattern/technique to use your scraps, a demo plus the all day sew-in in! List of fabric requirements posted below for the August Scraplab.
Gather your fabric from your stash
and join us for Scraplab!
Call the shop to sign up (815) 239-1026.
August Project Teaser & Supply List below:

QUILTING SERVICES
Lucky Quilt Co. is very lucky to have two wonderful quilters to provide quilting services for our customers:
Sue Drelicharz from Lake Summerset and Kathi Swanson from Evansville, WI. Both ladies do a superb job
and are a delight to work with!

Kathi will be in-store Tuesday, August 6
from 2:00 - 4:00 to meet with customers.

If you are only picking up your quilt,
please go straight to the checkout counter.
There is NO NEED to take a number
if you are only picking up a quilt.



Please pay by check made payable to the quilter


or with cash, exact change pretty please.

Kathi will be in store on
August 6

(NOTE this is Kathi's only date in August!)


September 10 and 24

You can drop off your quilt at the shop
for Sue Drelicharz during any business hours
and she will contact you by phone and email
to discuss your quilt, quilt designs and thread colors.

If you have questions, call the shop at (815) 239-1026.

Visit our website for a complete list of classes, events and to shop online
visit us at: www.lucky2bquilting.com
Haven't been in the shop for awhile?

Take a Virtual Tour of Lucky Quilt Company.
Simply Click HERE to step inside our shop
and take a look around!