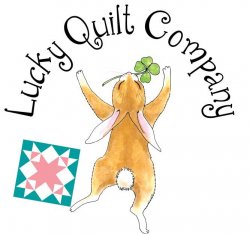 www.lucky2bquilting.com

(815) 239-1026
421-425 Main St. Pecatonica, IL 61063
Store hours: Mon 10 - 5, Tues 10 - 7, Wed - Sat 10 - 5
94' Workshop
Thurs, Sept 10
Workshop 10:00 - Noon
with open sew until 4:00
Bring your machine, scissors, thread, extra empty bobbins and your workbook!
The Sept Workshop will cover Chapters 1-3

Join Cassie starting in September for the 9450 and 9400 Workshop held on the 2nd Thursday of each month. Workshop will be 10 - Noon with open sew until 4:00. We will work through the workbook chapter by chapter so that participants can get thoroughly familiar and very comfortable with their machine. Workbook is $59.99. Workshop is free with purchase of the workbook from Lucky Quilt Co. This workshop is open to all Janome 9400 and 9450 owners regardless of where you purchased your machine!
PLEASE REGISTER SO WE KNOW HOW MANY
TO EXPECT!
If you need help getting your machine from the your car to the sewing studio, simply come into the shop to let us know.

Click here for more info on the Janome 9450!
GARAGE SALE this WEEKEND!!!
Cassie has moved from her house to an apartment
and is selling LOTS OF STUFF!!!
420 W. 4th Street Pecatonica
Fri, Sept 20 & Sat, Sept 21
8:00 - 4:00
Watch for the pink garage sale signs! (of course)
Lots of treasures, some vintage, glasswear, furniture, of course fabric and craft items and lots of misc.
Follow Cassie Blair-Schlais on Facebook! She'll be posting pictures of items in the garage sale over the next couple days!
Watch for our next newsletter to include info on our 4th Anniversary Sale, A New Lucky Machine Embroidery Club & Monthly Workshop, Kids Sewing Classes, exciting news on the new Janome Machines that have just arrived and more!!!!
Pack Your Bags &
Join us for a road trip to visit 8 shops
October 25 & 26!

Ride in luxury to 8 fabulous quilt shops. See many wonderful displays and get lots of new ideas as you ride a coach bus between 3 states to shop and explore without the hassle of driving.
Our trip includes meals, overnight stay at
Quality Inn & Suites in Davenport, IA
Prizes and lots of fun for everyone!
Click here to learn more!
Sewing Machine Service
Now In-House at
Lucky Quilt Co!!!
Bring in your sewing machine
(any brand)
for clean, oil & tune-up for only $64.95!
If you need help unloading your machine from your car,
simply come in and let us know. We're happy to help!
No need to call ahead, simply drop off your machine.
Questions, call (815) 239-1026
Learn about all of our classes, events including our Monthly Sew-Ins
and shop online at
www.lucky2bquilting.com!