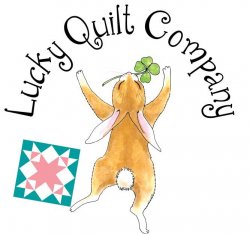 www.lucky2bquilting.com

815-239-1026
421-425 Main St. Pecatonica, IL 61063
Store hours: Mon 10 - 5, Tues 10 - 7, Wed - Sat 10 - 5
PLEASE NOTE:
Friday Happy Sew, Oct 25
rescheduled to Friday, Nov 1
& Applique Club, Sat Oct 26
cancelled due to bus shop hop this weekend!









Gorgeous doesn't begin to describe this new
Janome Continental M7
13.5" throat space
Automated needleplate lift
Introduces the New "AcuSpark" App
Separate bobbin winding motor
Strongest motor in the industry -
can sew through 10 layers of 14 oz denim like butter!
Deluxe extension table with a drawer for accessories and more!!!!
Stop in the shop to test sew!
Click here for more info on this amazing new machine!!!
WE WILL NOT BE UNDERSOLD!!!
Northern IL Shop Hop
"A Charming Fall Road Trip"
Nov. 8-16th
Mark your calendar and gather your friends!

15% off regular priced fabrics, patterns, books
Chance to win $125 value gift basket
from any shop you visit--one free chance,
plus one for ea. $10 (pre-tax) you spend
Free Charm with a $35 purchase**
**Quantities limited, first come basis--each shop has a different charm, collect all 15 and purchase the bracelet for a complete look!
Free 5" charm square
GRAND PRIZE--$25 gift certificate
from each shop! That's a $375 value!!
Winner chosen from passports turned in
& stamped from all 15 shops!
Drawing on Nov. 25th
Click here to download passport with complete details and list of shops or pickup your copy at Lucky Quilt Co.

New!! Kimberbell
Machine Embroidery Club!

First Saturday each month beginning Nov. 2nd, 9:30am-2pm
November project is the Reindeer Buffalo Check Canvas Tote (pictured)
$35 includes digital pattern, kit with all materials needed except thread!
*New project each month!
*Sign up each month as interested
*Price includes kit and digital pattern
*Must bring your own embroidery machine (and hoop) and Know how to use it!



December Project

Dec. 7th







Watch for more exciting Kimberbell news at Lucky Quilt Company!!! Kimberbell fabric collections coming in 2020, Lucky will be a Certified Kimberbell Shop in Spring of 2020 and more!!!
Let's do this and have some fun!!!!
Pillow Wrap Class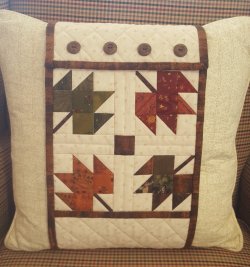 Wed. Oct. 30th
10am-4pm
$35
Price includes kit to make wrap exactly as shown, buttons, batting, backing and binding.
(Pillow not included)
Pam Johnson, instructor
Sleep-in-Your-Own-Bed Retreat

In Lucky's 1st Floor Sewing Studio

Mon-Thurs, Nov. 18-21
9am-9pm
Go home at night, "sleep in your own bed," then come back the next day to continue your projects... for 4 days!


Fee is $60 and includes 15% discount on all regular price purchases all 4 days, a Special "Lucky" Retreat Goody Bag and a scoop of Cedar Crest Ice Cream from Pec's own 3rd Street Station!

Bring your own machine and projects or browse the shop to start something new! Each person gets their own table. The studio has several design walls, 3 pressing stations and 2 cutting stations. Kitchenette includes microwave, refrigerator, water cooler with filtered water, Keurig with coffee pods, cream and sugar. Meals are on your own. Enjoy any of Pecatonica's local eateries (some deliver!), bring in sack lunches or dinners or talk amongst the group and decide to have a potluck for a meal (or two!) Come and sew, relax, enjoy time with friends and meet new ones!
Each Sleep-in-Your-Own-Bed Retreat
books up to 12 people.
To register, call the shop at 815-239-1026


Lucky's 2019 BOM
(Block Of the Month)
A rainbow of colors and metallic dots make this a fun and refreshing new BOM exclusively designed for Lucky Quilt Co.
Begins in November and runs for 12 months.
$99 registration includes all fabric for blocks, background, inner border and binding.
Block pattern each month $10.
Finished quilt size is 63" x 80"




Register NOW!
Is your Machine tired? Stressed?
Sewing Machine "Spa" Service & Repair
Now In-House at
Lucky Quilt Co!!!
Bring in your sewing machine
(any brand)
for cleaning, oil & tune-up for only $64.95!
If you need help unloading your machine from your car,
simply come in and let us know. We're happy to help!
No need to call ahead, simply drop off your machine.
Questions, call (815) 239-1026


Trendy Holiday Tote Class

Wed. Dec. 4th
10am-2pm
$25, includes pattern and templates

Great for gift-giving, use as a gift bag or hostess gift, or for carrying holiday treats!

Rita Wadman, Instructor
Applique Club
Join us at Applique Club!
4th Saturday of each month from 10:00 - 3:00. (except Oct) Join many other quilters who are making the Lori Holt, Bunny Hill Designs and many other charming projects! Price is only $5.00 per month and includes one-on-one applique instruction on prepared edge, needle turn, fusible or the Lori Holt/Eleanor Burns method with interfacing, when you need it! Beginners encouraged and welcome!

Simply call the shop at (815) 239-1026 to let us know you'll be there and then join us and enjoy the fun of applique!


We're so LUCKY to be in the
Great Stash Dash 2020
Buy your Totes beginning the day after Thanksgiving for savings in 2020!
Watch for more details in our next newsletter!

Learn about all of our classes, events including FRIDAY HAPPY SEWS!!!
and shop online at
www.lucky2bquilting.com!