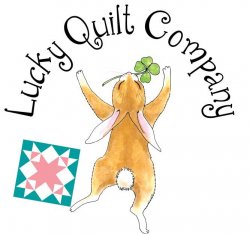 www.lucky2bquilting.com

(815) 239-1026
421-425 Main St. Pecatonica, IL 61063
Store hours: Mon 10 - 5, Tues 10 - 7, Wed - Sat 10 - 5
READY ... SET ... HOP!!!!
Northern IL Shop Hop Starts this Friday!!!
Nov. 8-16th
Gather your friends and take advantage of the discount and chance to win a gift basket at each shop!
And even if you only visit 1 shop,
you still get all the benefits such as:
15% off regular priced fabrics, patterns, books
Chance to win $125 value gift basket
from any shop you visit, one entry just for walking in the door,
plus an entry for ea. $10 (pre-tax) you spend!!!

Free Charm with a $35 purchase**
**Quantities limited, first come basis--each shop has a different charm, collect all 15 and purchase the bracelet for a complete look!
Free 5" charm square

GRAND PRIZE--$25 gift certificate from each shop!
That's a $375 value!!
Grand Prize winner chosen from passports turned in
& stamped from all 15 shops!
Drawing on Nov. 25th
Click here to download passport with complete details & list of shops or pickup your copy at Lucky Quilt Co.


Friday Happy Sew Tomorrow!
Friday, Nov 8
Starts at 10:00
$10 includes a 15% discount on all
regular priced merchandise
New Exciting Prizes given away each hour!!!
PLUS the Shop Hop starts tomorrow so
register for the gift basket, get your charm...
Last minute??? No worries, we've got spaces open... load up your machine & projects, grab a friend (or come alone) and come on over!!!

Long Sleeve
LUCKY T-Shirts are back in stock!!!

M - XXXL


Join us for "The Buzz" Monday, Nov 11
in the Shop Classroom
The 2nd Monday of each month at 9:00 a.m. Learn what's new, what's on the way plus any insider "news" we have to share! Get a free gift just for attending. Come join us, enjoy a cup of coffee or tea and get "The Buzz."

Then if you're available, STAY FOR...
The Bee - All Day Sew-In 10:00 - 5:00 ($10)
in the Shop Classroom
Limit 6 people! Sign up today!
Work on any project you'd like! Enjoy the company of other quilters. Enjoy 15% discount on all regular priced items! Call the shop to reserve your seat (815) 239-1026

9450 / 9400 Workshop
This Saturday, Nov 9
10:00 - Noon
FREE if you purchase the 9450 Workbook at Lucky Quilt Company.
This Saturday we will cover
Chapter 3 Adjust Functions
and, Chapter 4 AcuFeed Flex
Bring your workbook (or buy one at the shop), machine, cords and ALL feet!
Stay and sew until 4:00 if you'd like!
PLEASE RESERVE YOUR SEAT AHEAD
by calling the shop at (815) 239-1026.
Thank you!
Sewing Machine Service
Now In-House at
Lucky Quilt Co!!!

for clean, oil & tune-up for only $64.95!
If you need help unloading your machine from your car,
simply come in and let us know. We're happy to help!
No need to call ahead, simply drop off your machine.
Questions, call (815) 239-1026
Learn about all of our classes & events
and shop online at
www.lucky2bquilting.com!