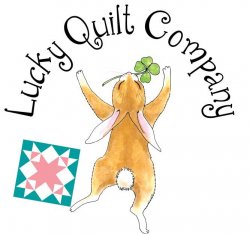 www.lucky2bquilting.com

(815) 239-1026
421-425 Main St. Pecatonica, IL 61063
Store hours: Mon 10 - 5, Tues 10 - 7, Wed - Sat 10 - 5
The 9450 Workshop is cancelled
for Thursday Feb 13
AND the month of March
Based on feedback and suggestions we've received
we will be restarting the workshop in April.
We will start at the beginning of the workbook
with some basic machine knowledge prior
to the workbook (how to thread, wind bobbins, etc.)
You MUST pre-register each month PLEASE
simply by stopping in or calling the shop!
(815) 239-1026
We look forward to a new 9450 Workshop starting April 2020!
Sign up and join us!


Friday Happy Sew this Friday!
February 14, 2020

Bring your machine, projects and join us anytime 10:00 am - 8:00 pm

$10 includes a Free Gift and a Special Valentine Treat

Please call the shop to register
(815) 239-1026
or CLICK HERE to signup online!!!
If you missed our last newsletter
CLICK HERE!

Learn about all of our classes, events
and shop online at
www.lucky2bquilting.com!