Good Day Lucky Quilters!
Welcome to Lucky's Happy Gram #1

Each day watch for an email and Facebook Post to bring CHEER and CHARM to our Quarantined Quilters! Get a peek inside the lives of Lucky Quilters (pets, projects, sewing rooms and more!) as well as SPECIAL OFFERS to keep you inspired while you are tucked away sewing at home!


Sew! Let's hop right into our first Happy Gram!!!
Image at right - Cassie's Quilt Case at home :)

Below we bring you a project idea that you can make over and over again with a multitude of uses! Make them for yourself, friends, gifts ...

Tabitha Jane Reversible Tote featuring Lori Holt's
"My Happy Place" Decor weight 58" fabric
Finished size 16-1/2" tall, 18" wide, handles are 36" long

Kit includes 1/2 Yard each of 3 My Happy Place Prints
$24.99 includes pattern
Click here to order your kit(s) online or call the shop at
(815) 239-1026!

My Happy Place Fabrics are 58" wide at $16.40/yd.
They are a heavier, decorator weight which is perfect for totes, pillow covers, chair cushions, tons of ideas!

Yardage available in 2 prints at $16.40/yd.


Click HERE to order the fabric above
or call the shop to place your order!
Click HERE to order the fabric below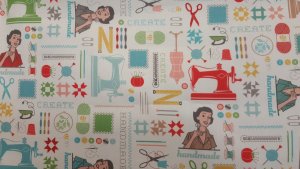 All above merchandise qualifies you for
Bunny Bucks!!! Click here to learn about Bunny Bucks!

Happy Gram purchases can be phoned in and picked up curbside in front of the shop on Wednesdays or Saturdays 10 - 1 or by appointment or shipped with NO Shipping Charges!

... Reminder ...

Beginning Friday, March 20, in an effort assure the safety
and health of our customers and staff, Lucky will only be open with
curb side service for pickup/drop off hours on Wednesdays & Saturdays from 10:00 a.m. - 1:00 p.m. or by appointment.
Customers can pickup orders they've placed or pickup/drop off
machines for service or quilts for one of our quilters.
Appointments can be made for more extensive shopping
or to have a demo on a Janome Sewing Machine.
Simply call the shop at (815) 239-1026