HELLO LUCKY QUILTERS!
WELCOME TO HAPPY GRAM #4

SHIPPING/PICKUP UPDATE!!!
I've been given approval from the Pecatonica Village President to allow customers to pickup orders at curbside,
if they'd prefer, rather than having them shipped. That means I walk it out to your car, you do not come into the shop.

If you'd LIKE TO GET OUT OF THE HOUSE and take a drive, I will bring your package to your car
plus you'll receive a free gift and a coupon
good for 20% OFF any regular priced item in-store thru Dec 31, 2020.

Regardless where you live,
if you'd rather have your order delivered to your door,
I'm MORE THAN HAPPY to ship your package!!

You can indicate this choice when you place your order
online or by phone. Either choose Shipping (free)
or Curbside Pickup (gift & coupon.)

Our curbside pickup hours are
Wednesdays and Saturdays 10:00 - 1:00.
If you need a different pickup time simply indicate that on your order or call the shop to leave a message. (815) 239-1026.

When you arrive to pickup your order, simply call me in the shop to let me know you're outside!
I'll bring your package to your car wearing roller skates!
Wait, NO, bad idea!!!!!!!!
I'll walk your package to your car! :) :) :)

OK, so now that we've got the "business" out of the way, let's look at some fun stuff!
During a recent "Outlander Gathering," a friend brought a very yummy pie to share. It was so good, I believe, if left alone, I could have eaten the whole pie myself!!! :)
Thank you Deb for this recipe!

Quick Fruit Pie
One graham cracker pie crust
1 large can of crushed pineapple* (drained well)
1 small box instant vanilla pudding
8 oz cool whip

Mix vanilla pudding powder with fruit and add cool whip. Mix well and pour into crust. Chill several hours or overnight. VERY YUMMY!!!
*Any canned fruit will work as long as it's drained very well

Lori Holt FQ Color Bundles


From a mixture of Lori's collections, including the latest, all in the same color family and freshly picked just for you!

Choose from Greens, Reds, Yellows,
Blues, Browns and Grays

Fat Quarters are regularly $3.25 each
which would normally total $19.50 for 6


NOW 6 for $12.00!

That's Lori Holt FQ's for only $2 each
when you buy our color bundles.
LIMITED TIME ONLY! :)

Click on color choice below to order
or call the shop and leave a message
and Cassie will get back to you!


Lori Holt BLUES 6 FQ Bundle for only $12

Lori Holt GREENS 6 FQ Bundle for only $12

Lori Holt REDS 6 FQ Bundle for only $12

Lori Holt YELLOWS 6 FQ Bundle for only $12

Lori Holt BROWNS 6 FQ Bundle for only $12

Lori Holt GRAYS 6 FQ Bundle for only $12

ONLY 2 LEFT!
Lori Holt's quilted tote!
This delightful quilted bag features fabric from the Vintage Happy 2 collection by Lori Holt on the outside of the bag and is lined in solid cotton. It has an outer pocket and 10 1/2" strap length. The bag measures 12" high x 18" across x 6" deep.
Just in time for spring!
Only 2 LEFT!
Retail: $44.95
Click here to order yours!
Occasionally I come across a book that is especially inspiring & delightful. This is one such book ...











This richly photographed, practical guide to creating a cozy farmhouse aesthetic offers dozens of ways to bring warmth, joy, and meaning to your home.
144 pages of inspiration!
Regularly $34.99, Now $22.50 Click here to order your copy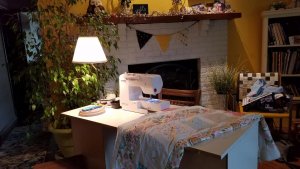 A Peek into Molly's Sewing Area and a couple of her projects. My sewing area isn't this tidy, is yours???
She can even sew by the fire if she wants!!!

Are you following Lucky Quilt Co on Facebook? If not, you are missing some fun posts. Click below and Like US on Facebook!

This is how Alex is enjoying the Splendid Seclusion, right next to his mama of course :)
New items are being posted every day!
Shop online at
www.lucky2bquilting.com