Happy Gram is MIA today because
WE'VE BEEN SWALLOWED
BY A QUILT SHOP!
and tied up with elastic!
We've had SO, SO MANY orders for elastic that we've not only sold out but oversold! We've sold OVER 5,000 yards of elastic from our
Happy Little Shop!!!!! But

REST ASSURED,

we have more on the way!!!!
PLUS, we were alerted today that our elastic shipment was delayed at the dock and will arrive

early next week, NOT by this Saturday

.

I know, "rack 'em, sack 'em"

but you can be sure everyone is doing the best they can including manufacturers and distributors. Our orders are being honored by date of request. We are going through our list and will be notifying customers when their order will be ready to ship or be picked up.

Be patient, please. We are busier than we ever dreamed!


THANK YOU, THANK YOU, THANK YOU!!!!

FREE SHIPPING ALL WEEKEND!!!

This week, I celebrated my birthday
so I want to give you something!!!!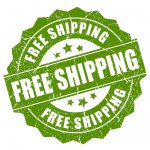 PLUS a FREE Knob Door Hanger
(shown left) to the
first 6 ONLINE orders!


In Order to Take Good Care of You...

we are not only accepting orders online at
http://www.lucky2bquilting.com/shop-online.htm,

during FACEBOOK LIVE Sales

OR by telephone at (815) 239-1026

(leave a message if call goes to voice mail and we will
get back to you as quickly as we can.)


We have orders pouring in every day thru both shop emails,
Facebook comments, Facebook Messenger,
Lucky's Online Store, phone calls and voice mail messages.
We are finding it impossible to respond to all inquiries in a timely manner which isn't fair to you.
Please order online or by calling our shop unless a
Happy Gram or event directs you otherwise!


!!!VIRTUAL HUGS & THANKS!!!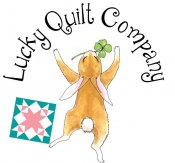 Order Delivery/Pickup
*Curbside Pickup:


When you arrive curbside, please stay in your car and call us at (815) 239-1026 to let us know you are there. We will bring your order to you! :) If you reach our voice mail while you are waiting in your car, it simply means we are on another call. Please do not leave a voice mail in that case but instead try back in just a moment.



Wednesday 10:00 - 1:00
for orders placed by Midnight Monday



Saturday 10:00 - 1:00




for orders placed by Midnight Thursday





Mail orders will ship weekly, every Monday


for orders placed by Midnight Saturday
More frequently when possible.

*Coupon received in pick-up orders are valid in-store after
we reopen for walk-in business. Thank you!


Buy Lucky Gift Cards & get a
15% discount when you use the card!
When you purchase a Lucky Gift Card (for yourself or as a gift) receive 15% OFF any regular priced purchases paid with that gift card until the
gift card balance is $0!
Sew, if you know you'll spend $50 or $100
or ??? in the next 1, 2, 6, or 12 months at Lucky Quilt Co, purchase a gift card now for your chosen amount
and you'll get the added 15% discount on all regular priced purchases paid with the gift card until the balance is $0!
Gift cards start at $10 and DO NOT Expire.
To order, call the shop at (815) 239-1026.
If you get our voice mail, please leave a message and we'll get back to you as quickly as possible! Gift cards can be mailed or picked up!

Quilt Calculator
Figure how much fabric is needed
for borders, backing and binding.
Simply click HERE

Be sure to bookmark it on your computer
so you can refer to it again and again!
Shop online 24/7
www.lucky2bquilting.com