Welcome My Patient Lucky Quilters!
to Happy Gram #32, May 5

THE ELASTIC HAS ARRIVED!!!

But PLEASE, OH PLEASE, We Beg, We Pray,
Know that we'll call with your
order in a couple a day!
If you've already requested elastic from us,
sit tight and we'll be in touch within the next couple days! For those that cannot get elastic on this order, we will have you on a wait list and will fill your request as soon as the second shipment arrives. We will call you in the next couple days to confirm either way!


PLEASE DO NOT CALL THE SHOP ABOUT YOUR ELASTIC ORDER!




We will contact you!



This is what a box of 5000 yards of elastic looks like!!!!!

Beautifully rich quilt kits featuring the Wisdom Collection by Nancy Gere for
Windham Fabrics.
Both kits include fabric for top and binding. Backing sold separately.
Remaining yardage from the collection only $8.00/yd.
Limited quantities! Click HERE!


Both quilt kit patterns are from the book:
Fun, Friends & Fat Quarters
- 12 Quilts from 12 Fat Quarters

Click HERE to browse book and order!





Stars & Stripes Quilt KIT
Finishes at 58" x 72"
Backing needed: 4 yds
Click HERE to order quilt kit
Quilt modeled by Andre,
one of Ann's new babies!


Counting Game Quilt KIT
Finishes at 62" x 78"
Click HERE to order quilt kit


Here is Ms Ann, herself,
modeling the Counting Game Quilt cozy at home!






Remember! Limited yardage available at only $8.00/yd
from the Wisdom Collection!
Order your backing with your kit!

Click HERE to browse!

New product & pattern just arrived!
Click on image to learn more and order!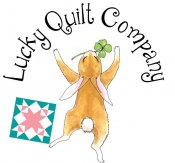 Order Delivery/Pickup
*Curbside Pickup:
When you arrive curbside, please stay in your car and call us at (815) 239-1026 to let us know you are there. We will bring your order to you! :) If you reach our voice mail while you are waiting in your car, it simply means we are on another call.
Please do not leave a voice mail in that case but instead try back in just a moment.

Wednesday 10:00 - 1:00
for orders placed by Midnight Monday



Saturday 10:00 - 1:00




for orders placed by Midnight Thursday





Mail orders will ship weekly, every Monday


for orders placed by Midnight Saturday
We will mail more frequently if possibly.

*Coupon received in pick-up orders are valid in-store after
we reopen for walk-in business. Thank you!


Buy Lucky Gift Cards & get a
15% discount when you use the card!
When you purchase a Lucky Gift Card (for yourself or as a gift) receive 15% OFF any regular priced purchases paid with that gift card until the
gift card balance is $0!
Sew, if you know you'll spend $50 or $100
or ??? in the next 1, 2, 6, or 12 months at Lucky Quilt Co, purchase a gift card now for your chosen amount
and you'll get the added 15% discount on all regular priced purchases paid with the gift card until the balance is $0!
Gift cards start at $10 and DO NOT Expire.
To order, call the shop at (815) 239-1026.
If you get our voice mail, please leave a message and we'll get back to you as quickly as possible! Gift cards can be mailed or picked up!

Quilt Calculator
Figure how much fabric is needed
for borders, backing and binding.
Simply click HERE

Be sure to bookmark it on your computer
so you can refer to it again and again!
Shop online 24/7
www.lucky2bquilting.com