Welcome to Happy Gram #42
All Hallow's Eve & Happy!!!

All Hallow's Eve
Entire collection is due
to arrive anytime!
We are offering
MIDNIGHT CROSSINGS
KITS
for PRESALE!



Kits include all fabric for top and binding. Approx 69" x 69"
You will need the pattern &
4-1/4" backing. If you'd like backing to match the collection, please write us a note on your order and we'll contact you as soon as the bolts are here and kits are cut!








Every KIT PREORDERED by BEFORE June 1 will come with a Moda Jute/Burlap bag with cotton canvas
pocket 12" x 9.25" x 5.5" AND a Moda bag with zipper closure! 8" x 4.5"
Click HERE to PREORDER your MIDNIGHT CROSSINGS KIT made from
All Hallow's Eve by Moda!
Don't forget your pattern!
Click HERE to order pattern.

Don't miss our Facebook LIVE SALE Thurs, May 28th at 9:00 a.m. on Lucky Quilt Co Facebook Page. Click HERE to connect!
Click HERE to browse the fabrics that
will be offered this week!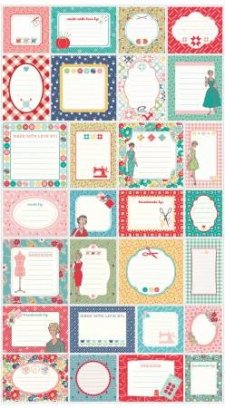 MY HAPPY PLACE

Label Panel
by Lori Holt

$7.94

Click HERE to order!
A Word about Quilters Dream "NATURAL" Batting


We carry the Quilter's Dream batting in NATURAL because it is the least processed, most economical yet the most "natural." We make most of our quilts with lots and lots of white background and the NATURAL batting works great with white fabric!
There is such a slight difference between WHITE and NATURAL that we do not carry both.

Click HERE to shop our selection of Batting
Starting June 1 our doors will be open to customers 10:00 - 5:00 Mon - Sat.
ONLY 4 CUSTOMERS ALLOWED IN STORE AT A TIME, HAND SANITIZER WILL BE PROVIDED AND REQUIRED UPON ENTERING STORE AND MASKS WILL BE REQUIRED AT ALL TIMES.

Thank you for your understanding and cooperation.
We miss you and look forward to seeing each of you!!!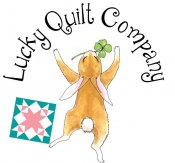 Order Delivery/Pickup
Curbside pick-up will remain an option to reduce the traffic in and out of the store and to provide a safe option for our customers.

When you arrive curbside, please stay in your car and call us at (815) 239-1026 to let us know you are there. We will bring your order to you! :) If you reach our voice mail while you are waiting in your car, it simply means we are on another call.
Please do not leave a voice mail in that case but instead try back in just a moment.
Wednesday 10:00 - 1:00
for orders placed by Noon Tuesday

Saturday 10:00 - 1:00
for orders placed by Noon Friday

Packages for shipping are now going out 2 to 3 times each week!

Quilt Calculator
Figure how much fabric is needed
for borders, backing and binding.
Simply click HERE

Be sure to bookmark it on your computer
so you can refer to it again and again!
Shop online 24/7
www.lucky2bquilting.com