Welcome to Happy Gram #43!
Welcome Back to The Shop
Beginning Monday, June 1
Hours will be Monday - Saturday 10 - 5
(note no Tuesday eves at this time)
Please see safety policies at the bottom of this Happy Gram.
BUILD SKILLS AND CREATE MEMORIES
WITH STACY IEST HSU'S

CUT. SEW. CREATE.
NOW 25% OFF thru June 6 or while supplies last!
USE COUPON CODE: KIDSSEW at checkout

Cut. Sew. Create is projects, ranging from beginner-friendly
cut-and-sew pillows to intermediate-appropriate zipper pouches to the most advanced: a sewing tote, pincushion & sewing caddy.




Whether you're a parent, grandparent, homeschooler or a Brownie or 4-H leader, you'll appreciate these kits, which come with how-to instructions.






Whether you're interested in introducing the fun of sewing to a young person, helping a newbie become more experienced, or stitching a quick present, check out Cut. Sew. Create, projects guaranteed to put a smile on the face of young and mature alike.






CLICK HERE TO BROWSE OUR COMPLETE SELECTION OF
CUT. SEW. CREATE. KITS!

ZIPPERS INCLUDED IN KITS
when needed!

Order Fiberfill Stuffing HERE
LOOKING FOR TEACHERS
FOR KIDS CLASSES
Especially classes held on Zoom (computer)
Cassie will show you how to hold a class on Zoom

Must

LOVE KIDS (not tolerate them, but LOVE them!)

, have some small group or teaching experience, be very patient and friendly (smiles!!!) and be comfortable with beginner to intermediate sewing projects including zippers.

Please contact Cassie Blair at
Lucky Quilt Company 423 Main St. Pecatonica, IL
(815) 239-1026


NO emails please.




June 1, 2020 REOPENING!!!

LOOKING FOR VOLUNTEERS TO WORK 2-3 HOUR SHIFTS AS GREETERS AT THE SHOP
June 1 - 6
"Masked" Greeters will monitor how many people are in the shop, assure masks are worn upon entry, hand sanitizer is used and each customer is greeted in the warm,
friendly fashion Lucky is known for!
Please call Cassie at (815) 239-1026
leave a message if you go to voice mail and she'll get back to you! Thank you!

* Hand sanitizer will be available and required upon entering the shop.
* We will allow 4 customers at a time in the shop.
* Masks must be worn at all times in the shop.

We have been busier and worked harder than ever before! We are truly blessed but worn out!!! We do have new merchandise and kits to welcome you! Please be patient as we adjust to this new way of doing business until we find our new "normal." We will do our best to accommodate each customer while assuring everyone's safety.
We miss you and can't wait to see you!!!!

We are in the process of deciding when we will be taking quilts in again for quilting and machines for service and repair. It will be posted on our website, Facebook page and in our email newsletters!

Bunny Bucks & Discount coupons
Bunny Bucks can be redeemed up to 3 per visit and are good for select Fat Quarters in the shop. Bunny Bucks are NON-Transferable
and expire Sept 30, 2020.
Discount coupons are good on regular priced items and cannot be combined with another discount or offer.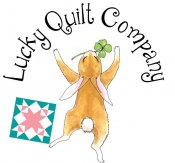 Curbside Pickups & Shipping
Will Continue!
Curbside Pickup

(if you'd rather not come in the shop)


Wednesdays & Saturdays 10:00 - 1:00

When you arrive curbside, please stay in your car and call us at (815) 239-1026 to let us know you are there. We will bring your order to you! :) If you reach our voice mail while you are waiting in your car, it simply means we are on another call.
Please do not leave a voice mail in that case but instead try back in just a moment.
Mail orders now ship within 3 days of order being placed.
Quilt Calculator
Figure how much fabric is needed
for borders, backing and binding.
Simply click HERE

Be sure to bookmark it on your computer
so you can refer to it again and again!
Shop online 24/7
www.lucky2bquilting.com