World's Fastest Happy Gram!!!
20% OFF ALL BOOKS & PATTERNS!
TODAY ONLY!
Click HERE to shop online!
Use Coupon Code: READIT at checkout.


Don't Miss our Facebook LIVE Sale this Morning!
Thursday, June 11 at 9:00 a.m.
on the Lucky Quilt Company Facebook page!

Click HERE to browse the items that will be offered for sale.
They will be made available to purchase once the LIVE presentation is over.

Click HERE to go to our Facebook Page!
These sale items are only sold online through our Online Store.
No phone sales or sales through comments on Facebook.

WE ARE TAKING IN MACHINES
FOR SERVICE!!!

$64.95 FOR CLEAN & SERVICE
Ready within one week from drop off unless parts are needed!


Please keep all accessories, extra feet at home with you.
We only need a standard sewing foot, bobbin, power cord and pedal. No need for appointment. Bring your machine into the shop. Remember to wear your mask, use hand sanitizer upon entering the store and that there are no more than 4 customers allowed in store at one time. Thank you!!!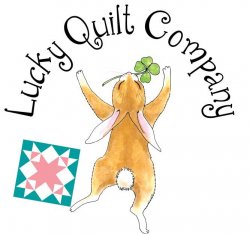 Welcome back to the shop!
We've missed everyone!
Our hours are Mon - Sat
10:00 - 5:00
Please see COVID policy below:



To assure everyone's health and safety we require:
Masks worn at all times while in the shop.

Each guest must use the hand sanitizer upon entering the store.

No more than 4 customers in the shop at one time.
Curbside pickup and mail delivery continue! Shop online at www.lucky2bquilting.com and choose "curbside pickup" or "shipping" at checkout. If you come to pickup your order, simply pull up to the curb, call us in the shop(815) 239-1026 and let us know you are out front to get your order! If your call goes to voice mail, please DO NOT leave us a message if you are at the curb! Please simply call back in a couple minutes.


Lucky Quilt Company 423 Main St. Pecatonica, IL 61063

(815) 239-1026