Welcome to Happy Gram #48
Ah, the days of summer are upon us...

Cheaper by the Dozen
Hand-Picked "Cassie" Bundles

FQ's are regularly $3.25 thus 12 = $39
Now, get a Mystery Bundle of gorgeous coordinating florals, ginghams,
stripes, plaids or dots

Hand-Picked by Cassie for only $24
Plus FREE Shipping regardless of how many bundles you buy! (this item only)

Image above/left is just an example of what could be included in your bundle.
Click HERE to order!
PLUS get a FREE 12 FQ PDF Pattern,
Stars & 4 Patches, emailed to you at the time of order!

Don't miss this chance to commemorate the 2020 toilet paper shortage with a quilt or wall hanging!
NOW 30% OFF


KIT includes 30 F8's
(F8's are approx 21" x 9"
also GREAT for mask making!)
REG $47.50, NOW $33.25
Order KIT HERE

We're On A Roll Pattern
REG $9.95, NOW $6.95
Order pattern HERE
Purchase borders, corners and backing separately.

Birds & Hollies
Gorgeous digitally printed.
Reg. $12/yd
NOW $10.95/yd
Click HERE to order



Moda Gradient Kaleidoscope Panels
57" x 57"
Beautiful enough to quilt just as they are!
Reg. $39.99, NOW $29.95
Order Blue Panel HERE Order PINK Panel HERE
Sewing Machine Clean & Service
Our Sewing Machine "Spa" is back!
Clean/Service just $64.95
No appt necessary. Simply drop off your machine with power cord, pedal and a bobbin with thread! We'll have it back to you within a week in most cases! Please wear a mask in the shop at all times, use hand sanitizer as you enter the shop and only 4 customers allowed in shop at a time. Thank you!

Lucky NOW OPEN Friday eves until 7:00 p.m.!

Our local restaurants are now serving on Main! On Friday nights, a portion of Main Street is closed and set up for dining alfresco! Lucky Quilt Co is now open for walk-in customers and will be open Fridays till 7:00 p.m. Stop in for a rainbow of color and inspiration plus have an evening out for great food with friends! Safe, social distance practice please.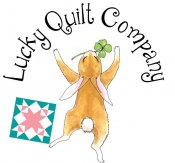 Welcome back to the shop!
We've missed everyone!
Our hours are Mon-Thurs & Sat 10- 5
Friday 10 - 7
To assure everyone's health and safety we require:
Masks worn at all times while in the shop.

Each guest must use the hand sanitizer upon entering the store.

No more than 4 customers in the shop at one time.
Curbside pickup and mail delivery continue! Shop online at www.lucky2bquilting.com and choose "curbside pickup" or "shipping" at checkout. If you come to pickup your order, simply pull up to the curb, call us in the shop(815) 239-1026 and let us know you are out front to get your order! If your call goes to voice mail, please DO NOT leave us a message if you are at the curb! Please simply call back in a couple minutes.


Lucky Quilt Company 423 Main St. Pecatonica, IL 61063

(815) 239-1026