Welcome to Happy Gram #50!
Can you believe we've shared
50 Grams of Happy??? :)


Mystery Batik Bundle of 12 FQ's
FQ's are regularly $3.25
thus 12 = $39
Now, get a Mystery Batik Bundle of gem tones, neutrals and brights for only $24
Plus FREE Shipping regardless of how many bundles you buy!
(this item only)
Image above/left is just an example of what could be included in your bundle.
Click HERE to order!
PLUS get a FREE 12 FQ PDF Pattern,
"Illusions" emailed to you with your purchase!

Facebook LIVE Sale
Thursday Morning 9:00 a.m.
Click HERE to preview bolts for sale at only $7.49/yd
Click HERE to join us for the sale preview
LIVE on Facebook June 18 @ 9:00 a.m, from Poolside at Prairie Star Lodge, retreat venue.


THEN join Cassie Friday morning, June 19 in the "At Home with Lucky Quilters" group on the Lucky Quilt Co Facebook page at 9:00 a.m. for a LIVE tour of Prairie Star Lodge and a peak in at what a retreat looks like and how very wonderful they are!
Click HERE to go to the Lucky Quilt Co
"At Home with Lucky Quilters" Group page on Facebook

Click HERE to learn more about Prairie Star Lodge, Browntown, WI
Lucky's Sewing Machine "Spa"
(Service Dept) Open Again!
Bring in your machine for some pampering (clean/service) for only $64.95! No appt needed, simply drop off your machine (following shop COVID guidelines below.) Your machine will be ready for pickup within a week in most cases. If you need help getting your machine out of your car when you arrive, please call us in the shop and we'll be glad to come out and help you! (815) 239-1026.
Join Cassie for a LIVE Demo
on the Janome 9450 QCP


on the Lucky Quilt Co Facebook Page




Wednesday, June 24




9:00 - 9:30


Click HERE to go to the Lucky Quilt Co. Facebook Page

This beautiful machine is truly a quilters dream and Cassie will show you why! Receive a free gift for simply joining us LIVE and leaving a comment or question.

Special 9450 QCP demo package will be offered to viewers.





To learn more about this beautiful machine and why you should purchase a Janome Machine at Lucky Quilt Company, click the link below. DON'T PAY ANY ATTENTION to the MSRP price! We don't even come close to asking that at Lucky Quilt Co!


http://www.lucky2bquilting.com/janome-sewing-machines.htm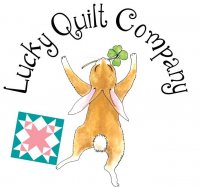 Welcome back to the shop!
We've missed everyone!

Our hours are:
Mon - Thurs & Sat 10:00 - 5:00
Friday 10:00 - 7:00

To assure everyone's health and safety we require:

Masks worn at all times while in the shop.

Each guest must use the hand sanitizer upon entering the store.

No more than 4 customers in the shop at one time.
Curbside pickup and mail delivery continue!
Shop online at www.lucky2bquilting.com and choose "curbside pickup" or "shipping" at checkout. If you come to pickup your order, simply pull up to the curb, call us in the shop(815) 239-1026 and let us know you are out front to get your order! If your call goes to voice mail, please DO NOT leave us a message if you are at the curb! Please simply call back in a couple minutes.


Lucky Quilt Company 423 Main St. Pecatonica, IL 61063

(815) 239-1026