Welcome to Happy Gram #51!
Just in time for Flea Market Season...
Flea Market Mix by Cathe Holden
for Moda is Here!
Compiled of vintage printed paper items known as ephemera, Flea Market Mix by Cathe Holden for Moda Fabrics brings your next project a feeling of being made with love. Floral trade cards, handwritten postcards, ingredient-stained recipe cards, and so much more come together in these unique fabric prints and collages.


10 fresh bolts of vintage
flea market finds!
Shop collection HERE

It's Just About Time!
Just Arrived! Click on each clock to order!
Limited Quantities!
Preorders previously placed are being processed and shipped NOW!

A Note from Cassie

Dear Lucky Quilters,

I can't begin to thank you enough for all of the amazing support you've provided the shop over the last 3 months! Wow! We had no way of knowing what would happen to our beloved shop, sales, customer reactions to all the uncertainty and more. You've responded by giving us more business and support than we could have ever imagined! Thank you!!!!!

However, because of all the amazing support to our shop, our sales nearly doubled and our inventory flew out the door! Combine increased sales with manufacturers and suppliers closing or slowing down their operations due to COVID 19 around the globe, and it has resulted in our inventory reaching a temporary low. Please rest assured that we have plenty of fabric on order and it is already starting to arrive. Manufacturers and suppliers are doing the best they can to fill orders. I thank you for your wonderful support and continued patience while we strive to get back to normal! Thank you again for being such wonderful customers, friends and supporters of Lucky Quilt Co.
Warmest Regards, Cassie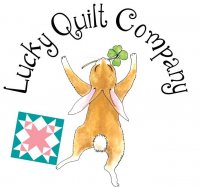 Welcome back to the shop!
We've missed everyone!

Our hours are:
Mon - Thurs & Sat 10:00 - 5:00
Friday 10:00 - 7:00

To assure everyone's health and safety we require:

Masks worn at all times while in the shop.

Each guest must use the hand sanitizer upon entering the store.

No more than 4 customers in the shop at one time.
Curbside pickup and mail delivery continue!
Shop online at www.lucky2bquilting.com and choose "curbside pickup" or "shipping" at checkout. If you come to pickup your order, simply pull up to the curb, call us in the shop(815) 239-1026 and let us know you are out front to get your order! If your call goes to voice mail, please DO NOT leave us a message if you are at the curb! Please simply call back in a couple minutes.


Lucky Quilt Company 423 Main St. Pecatonica, IL 61063

(815) 239-1026