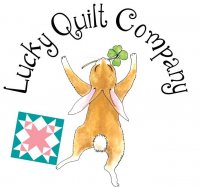 Welcome back to the shop!
We've missed everyone!

Our hours are:
Mon - Thurs & Sat 10:00 - 5:00
Friday 10:00 - 7:00

To assure everyone's health and safety we require:

Masks worn at all times while in the shop.

Each guest must use the hand sanitizer upon entering the store.

No more than 4 customers in the shop at one time.
Curbside pickup and mail delivery continue!
Shop online at www.lucky2bquilting.com and choose "curbside pickup" or "shipping" at checkout. If you come to pickup your order, simply pull up to the curb, call us in the shop(815) 239-1026 and let us know you are out front to get your order! If your call goes to voice mail, please DO NOT leave us a message if you are at the curb! Please simply call back in a couple minutes.