Hello Again Lucky Quilters!!
Welcome to Happy Gram #55
It's Itty Bitty Giggly Time :)

Itty Bitty Collection by One Sister Designer
Janet Rae Nesbitt
Reg. $11.30/yd, NOW $9.50/yd


Click HERE to Shop Collection

OR grab the

1/2 Yd Bundle of each of the 12 Itty Bitty Prints
featured above
Reg. $67.80, NOW $55
Click HERE for 1/2 Yd Bundle
Giggly Bright Gingham Bundle!

5 Sunny Bright FQ's in Yellow, Pink, Lavender,
Blue and Teal

Reg. $16.25
NOW $12.50!
Click HERE for your very own Giggle Bundle today!
It's About That Time!

















Sewing and Laundry Themed Clocks! $28.99 each
Click HERE to shop clocks and other fun accessories!

Lucky's Quilters are taking quilts again at
Lucky Quilt Co!

You can drop off your quilt for Sue Drelicharz during store hours and she will contact you via phone and email to discuss quilting design and thread color options.





Kathi Swanson will meet with customers
BY APPT ONLY July 21, August 4 & 18.
Customers will meet with Kathi in our new classroom
space at 425 Main St.

To make your appt with Kathi, call her direct at
(608) 728-1045. Masks will be required during each appt.
Enter the doors at 425 Main Street (Lucky's new classroom)
for Appts with Kathi.

If you are only picking up a quilt,
please do so in the shop at 423 Main St.
If paying by cash, EXACT CHANGE is required
sealed in an envelope with quilter's name, your name and phone number written on outside of envelope.
Sharpening Service at
Lucky Quilt Co!
Saturday, Aug 29
10:00 a.m. - 4:00 p.m.
Click HERE for prices and details!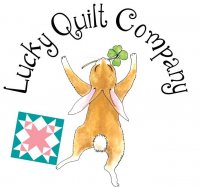 Welcome back to the shop!
We've missed everyone!

Our hours are:
Mon - Sat 10:00 - 5:00
To assure everyone's health and safety we require:

Masks worn at all times while in the shop.

Each guest must use the hand sanitizer upon entering the store.

No more than 4 customers in the shop at one time.
Curbside pickup and mail delivery continue!
Shop online at www.lucky2bquilting.com and choose "curbside pickup" or "shipping" at checkout. If you come to pickup your order, simply pull up to the curb, call us in the shop(815) 239-1026 and let us know you are out front to get your order! If your call goes to voice mail, please DO NOT leave us a message if you are at the curb! Please simply call back in a couple minutes.


Lucky Quilt Company 423 Main St. Pecatonica, IL 61063

(815) 239-1026