Good Day Lucky Quilters!
Welcome to Happy Gram #56
(Click the heart for free heart block pattern!)
Moda Bella Solids!
20% OFF
July 16 - 18 (today thru Saturday)
Reg. $7.99/yd, NOW $6.40/yd
Minimum 1/2 yd cuts



And just to share the LOVE,
we have a FREE pattern for you,
perfect for the Bella Solids!
Simply Click the picture!



Join Cassie Thursday, July 16 at 9:00 a.m. for some
GREAT deals during our Facebook LIVE Sale!
Click HERE to preview the items that will be offered,
then come back to this same link to shop
after the LIVE presentation.
Watch the LIVE presentation on Facebook HERE!
Here's a sampling of what's offered this morning in our Facebook LIVE Presentation. Remember, shop in our ONLINE Store under "Facebook LIVE" Sale after the presentation! Click HERE to go straight there!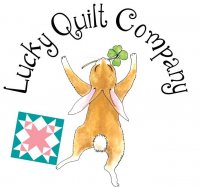 Lucky is now open again for business!

Until further notice, our hours are:
Mon - Sat 10:00 - 5:00

To assure everyone's health and safety we require:

Masks worn at all times while in the shop.

Each guest must use the hand sanitizer upon entering the store.

No more than 4 customers in the shop at one time.
Curbside pickup and mail delivery continue!
Shop online at www.lucky2bquilting.com and choose "curbside pickup" or "shipping" at checkout. If you come to pickup your order, simply pull up to the curb, call us in the shop(815) 239-1026 and let us know you are out front to get your order! If your call goes to voice mail, please DO NOT leave us a message if you are at the curb! Please simply call back in a couple minutes.


Lucky Quilt Company 423 Main St. Pecatonica, IL 61063

(815) 239-1026