Celebrating 5 Years!
For 5 days Sept 26 - Sept 30 (1 for every year!) you'll receive a "Celebration Gram" aka Happy Gram for our Celebration with specials, offers and more!! Choose to ship or pickup!




Birds & Holly
Reg. $12/Yd

NOW $9.49/Yd

Click HERE to order!
A Little Sunshine & Jelly for you...
Sunshine collection by Tanya Whelan Jelly Rolls

Reg. $42.50
NOW $32.50
Click HERE to order
Mystery Batik Bundle of 10 FQ's
ONLY $18.50!!! That's only $1.80 per FQ!!
No duplicates, 10 different fabrics & colors!
Photo at left is only an example of what could be included! We have so much fun making these mystery bundles! Click HERE to order!
Bias Take Maker Set
Reg $32.50
NOW ONLY $19.95!
Perfect for projects, applique and masks!
Click HERE to order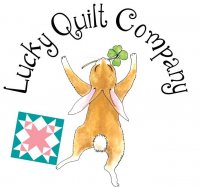 Welcome back inside the shop!
We've missed everyone!
As of October 1st, our hours are:
Mon - CLOSED/By Appt for Groups
Tues - Fri 10:00 - 5:00
Sat 10:00 - 3:00

To assure everyone's health and safety we require:

Masks worn at all times while in the shop.

Each guest must use the hand sanitizer upon entering the store.

No more than 4 customers in the shop at one time.
Curbside pickup and mail delivery continue!
Shop online at www.lucky2bquilting.com and choose "curbside pickup" or "shipping" at checkout. If you come to pickup your order, simply pull up to the curb, call us in the shop(815) 239-1026 and let us know you are out front to get your order! If your call goes to voice mail, please DO NOT leave us a message if you are at the curb! Please simply call back in a couple minutes.


Lucky Quilt Company 423 Main St. Pecatonica, IL 61063

(815) 239-1026