Celebrating 5 Years!
For 5 days Sept 26 - Sept 30 (1 for every year!) you'll receive a "Celebration Gram" aka Happy Gram for our Celebration with specials, offers and more!! Choose to ship or pickup!



Sweet, Sweet 30's Reproduction
FQ Bundle!
6 Fat Quarters for only $10!
While supplies last!

Click HERE to order
Grippy

Creates a non-slip surface on rulers, templates, stencils, rugs and hangers

Great for use with paper crafts

Use in card making, journaling and most paper projects

Can be applied again and again to the same surface
Reg. $9.00, NOW $5.99
Click HERE to order
Everything Scarlett & Sage 30-40% OFF!!!!

Jelly Rolls, Layer Cakes, Charm Packs & Yardage

Click HERE to order!
Have you missed the other 3 days of Celebration Grams? Here are the links that you can still browse and shop! :)
5 Year Celebration Gram #1, Sept 26!!!!
5 Year Celebration Gram #2, Sept 27!!!!
5 Year Celebration Gram #3, Sept 28!!!!

PLEASE NOTE: We are temporarily NOT accepting machines for service due so that we can get caught up and update the dept. Stay tuned. Thank you!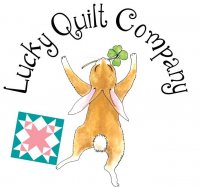 Welcome back inside the shop!
We've missed everyone!
As of October 1st, our hours are:
Mon - CLOSED/By Appt for Groups
Tues - Fri 10:00 - 5:00
Sat 10:00 - 3:00

To assure everyone's health and safety we require:

Masks worn at all times while in the shop.

Each guest must use the hand sanitizer upon entering the store.

No more than 4 customers in the shop at one time.
Curbside pickup and mail delivery continue!
Shop online at www.lucky2bquilting.com and choose "curbside pickup" or "shipping" at checkout. If you come to pickup your order, simply pull up to the curb, call us in the shop(815) 239-1026 and let us know you are out front to get your order! If your call goes to voice mail, please DO NOT leave us a message if you are at the curb! Please simply call back in a couple minutes.


Lucky Quilt Company 423 Main St. Pecatonica, IL 61063

(815) 239-1026