Today's the Last Day of Celebrating 5 Years!
For 5 days Sept 26 - Sept 30 (1 for every year!) you'll receive a "Celebration Gram" aka Happy Gram for our Celebration with specials, offers and more!! Choose to ship or pickup!

Let's Celebrate our Heroes!
Nurses ... Angels on Earth


Reg. $11.80/yd
NOW $9.50/yd
Click HERE to order!
LORI HOLT Mystery
10 FQ Bundle
Mixture of Blue, Green, Aqua, Pink, Red,
Yellow, Nutmeg, Navy, White/Background
from a variety of Lori Holt collections. Image is only a sample of what could be included.
Reg. $32.50, NOW $22.50
Click HERE to order!

Happy Day 100% Wool Bundle
6 Fat 16th's
Each approx 9" x 13"
Now $15, Click HERE to order!



Join us for a LIVE Facebook SALE
every Thursday eve at 6:30 p.m.
Each week features select merchandise which is only offered that evening
at the low Facebook Sale price!
Visit our Facebook pg HERE

Digitally Printed Panel of Jesus & the Children
36" x 42"

Reg. $12.75, NOW $9.75
Click HERE to order!



Coming in October:

A Look into our Newly Redesigned Shop! (LIVE on Facebook!)

Janome Machine Package Specials you don't want to miss!
Fresh New Merchandise!
9450 Workshop (delayed from Sept)
Janome Machine Tutorials


A Virtual Quilt Retreat


with Cassie & Friends
including a retreat goody bag sent to your home, Meet & Greet, Demos, Pajama Party, Show n' Tell, retreat discount on purchases
and more all from the safety and comfort of your home YET WITH FRIENDS!

Stay tuned! You won't even have to pack your bags or haul your machine!
Follow us on Facebook at Lucky Quilt Co to learn more as details unfold or watch for our Happy Grams via email!
Have you missed the other 4 days of Celebration Grams? Here are the links that you can still browse and shop! :)
5 Year Celebration Gram #1, Sept 26!!!!
5 Year Celebration Gram #2, Sept 27!!!!
5 Year Celebration Gram #3, Sept 28!!!!
5 Year Celebration Gram #4, Sept 29!!!!

PLEASE NOTE: We are temporarily NOT accepting machines for service due so that we can get caught up and update the dept. Stay tuned. Thank you!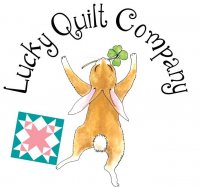 Welcome back inside the shop!
We've missed everyone!
As of October 1st, our hours are:
Mon - CLOSED/By Appt for Groups
Tues - Fri 10:00 - 5:00
Sat 10:00 - 3:00

To assure everyone's health and safety we require:

Masks worn at all times while in the shop.

Each guest must use the hand sanitizer upon entering the store.

No more than 4 customers in the shop at one time.
Curbside pickup and mail delivery continue!
Shop online at www.lucky2bquilting.com and choose "curbside pickup" or "shipping" at checkout. If you come to pickup your order, simply pull up to the curb, call us in the shop(815) 239-1026 and let us know you are out front to get your order! If your call goes to voice mail, please DO NOT leave us a message if you are at the curb! Please simply call back in a couple minutes.


Lucky Quilt Company 423 Main St. Pecatonica, IL 61063

(815) 239-1026