Browse our Latest Arrivals Anytime!
View our Fresh Arrivals
anytime by going to
www.lucky2bquilting.com
then click "Shop Online" then the NEW ARRIVALS icon (shown at left!) Or just click the icon shown left! Selection updated nearly everyday!!!!

Holiday Snowman
Runner Sew-Along


Join us for a 2-Session Tutorial on Facebook to make this charming table runner just in time for the holidays!
Dec 2 and 9 at 1:00 p.m. LIVE in a group on Facebook just for this Sew-Along. If you cannot watch the tutorials LIVE, you can watch them at a later time AND replay as needed to finish your project!
$35 includes invite to the Facebook Group, both tutorials and the pattern. Kits sold separately. Click HERE for info and to sign up online!
Lucky Quilt Company
is THRILLED to announce the opening of a Mattison & Son Mercantile satellite location inside Lucky Quilt Company!
Nate Mattison, owner, has been servicing and repairing all brands and ages of sewing machines at his Oregon, IL location for several years.
Nate will be onsite at Lucky on Tuesdays and Wednesdays. Stop in to say Hi and Welcome Nate! Drop off your machine for service or repair anytime. Machine Clean & Service Gift Certificates available soon for just $64.95!!!
GREAT Gift Idea!!!!


Please note that the Sharpening Service is available Nov 21 until 4:00 p.m. AND Lucky will stay open until 4:00 on this day, however, we normally close on Saturdays at 3:00 p.m. (effective 10/1/20)
The FUN of BRIGHT, SPARKLY holidays
are nearly here!!!

Frosty Fun & Hat Hat Hooray
SPARKLE kits will be ready by the end of November! SPARKLE Kits include at least 5 Michael Miller Fairy Frost bright pastel GLITTER fabrics!!
Click HERE to place your Kit & Pattern Pre-Order & get ready to Sparkle for the Holidays!

Holly Jolly Jingle Grams coming your way soon with Holiday Cheer, Great Gift Ideas, Fabulous Deals
and Fun! Landing in your email box everyday starting Thanksgiving Day thru Sunday, Dec 20!
Can you hear the bells ringing in the distance?
They are on the way to you!!! :)




LORI HOLT's STITCH Collection is arriving July 2021! My Happy Place Sew Along starts Aug 2021.

I simply cannot pass by another Lori Holt Collection, especially this one!!! If you've missed seeing, touching, having Lori Holt in-store at Lucky Quilt Co, please grab the opportunity to pre-order a kit, fabric and/or notions in support of your local Lucky Brick & Mortar quilt shop.



CLICK the PREORDER ICON to make your reservations today!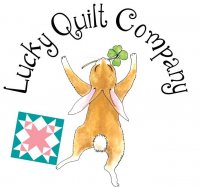 Welcome back inside the shop!
We've missed everyone!
Hours, as of Oct 1, 2020:
Mon - CLOSED/By Appt for Groups
Tues - Fri 10:00 - 5:00
Sat 10:00 - 3:00

To assure everyone's health and safety we require:

Masks worn at all times while in the shop.

Each guest must use the hand sanitizer upon entering the store.
Curbside pickup and mail delivery continue!
Shop online at www.lucky2bquilting.com and choose "curbside pickup" or "shipping" at checkout. If you come to pickup your order, simply pull up to the curb, call us in the shop(815) 239-1026 and let us know you are out front to get your order! If your call goes to voice mail, please DO NOT leave us a message if you are at the curb! Please simply call back in a couple minutes.


Lucky Quilt Company 423 Main St. Pecatonica, IL 61063

(815) 239-1026