www.lucky2bquilting.com
(815) 239-1026
423 Main St. Pecatonica, IL 61063
HAPPY NEW YEAR!!!


On the 6th Day of Clearance
My Quilt Shop is
SEW HAPPY it's 2021!




While Supplies Last
these pretty, fresh calendar towels from Moda are ONLY $4.49! (Reg. $6.99)
Click HERE to Shop!





Sew Happy Zip Pouch




10" x 6" Cotton Canvas Pouch


$7.99
Click HERE to order!




Cotton Canvas Tote


20" x 28" x 3.5" with zippered pocket inside and 2 back exterior pockets to tote rulers and supplies!




$24.00


Click HERE to order!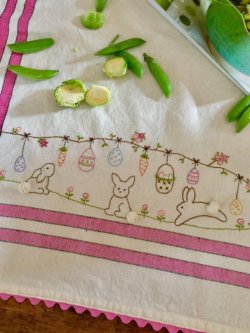 We're Excited to Introduce
Lucky's 2021 Dishtowel KIT of the Month
12 Charming Hand Embroidery Dishtowel Kits
from Bareroots includes a towel, pattern, directions, floss, ric rac and any embellishments needed.
1 offered each month and 2 in November for Christmas!!!


Purchase one at a time (while supplies last each month) or reserve your kits ahead of time for only $2 per kit to assure you get your favorites and receive 4 Floss Drops with each preordered kit to organize your embroidery floss.
Reserve all 12 and get a FREE Hand Embroidery Stitches at-a-Glance Handbook to learn all the stitches with your January kit PLUS a total of 48 Floss Drops!
(4 with ea kit)



Click HERE to browse
all kits!
DON'T WANT TO PAY SHIPPING FOR EVERY DAY
IN OUR 12 DAYS OF CLEARANCE?
SIMPLE!!!! Just choose curbside pickup when you check out BUT LEAVE A NOTE in your order saying "Consolidate orders and bill shipping at the end." We will hold your orders until the 12 Days of Clearance is over then calculate the actual cost of shipping to you and email you an invoice or call for credit card number to process shipping fee. Easy peasy!
Lucky is currently closed to Walk-In Traffic but is OPEN for shopping online or via phone in orders!
Shop at: www.lucky2bquilting.com/shop-online.htm

Curbside Pickup Hours:
Wednesdays and Saturdays from 10:00 - 3:00 or by appt.
Simply pull up to the curb and call to say "I'm Here!"
You WILL receive an email when your order
is ready for picked up!
(815) 239-1026


Nate Mattison is at Lucky
every Tues & Wed for Sewing Machine Clean, Service & Repairs on all brands.
Call Nate at (815) 631-6639 to make an appointment to bring in your machine!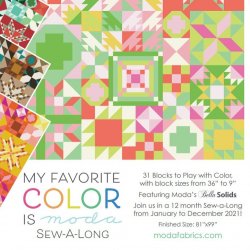 A Few Left in Each Colorway...
Join Lucky with Moda for this 12 Month
Sew-Along starting in January 2021!
Complete pattern and all fabric (Moda Bella Solids)
for top & binding packaged in a 4" x 13" x 15.5" Aqua Gingham-On-The-Go Project Bag.
No Monthly Fees PLUS get a Discount Coupon for 15% off any single reg priced item each month in 2021!!!!!
All for $124.50
AND IN 6 COLORWAYS to choose from!
Click HERE to choose your favorite colorway!
Shop online with us at:
www.lucky2bquilting.com/shop-online.htm