423 Main St. Pecatonica, IL 61063 (815) 239-1026

www.lucky2bquilting.com
We're Open for Walk-In Shopping!!!
Tues & Wed 10 - 5,
Sat 10 - 3
NO LONGER LIMITED TO 4 IN THE SHOP!
Nate is at Lucky for Machine Service Tues & Wed 10 - 5
Please note that
A MASK is REQUIRED :)
(covering mouth & nose please)
Please use hand sanitizer
upon entering store.
Thank You!

If you'd rather continue with curbside pickup, simply pull up and call the shop at (815) 239-1026 and we'll bring your package to your car.
Thank you!

We're Going to the Dogs!
(or shall we say The Puppies :)


66" x 66" Quilt Kit includes pattern,
all fabric for top including new Paintbox fabrics
by Elizabeth Hartman,
Essex Yarn Dyed Linens, and
Kitchen Window Wovens.

$99.95 Woof! Woof!
Click HERE to order KIT
Frosty Fun Sparkle Quilt Kit
Add some Twinkle to Your Brrrrr! :)

46-1/2" x 47-1/2"



This Sparkly Kit has Fairy Frost and Fun Festive Brights against a background of Paper White Grunge to warm you while we await spring!!!





Kit price is $49.50


Click

HERE

to order Kit
Click

HERE

to order Pattern



Scissor & Knife Sharpening Service this Saturday,
February 20 10 - 3
Click

HERE

for more info
Join Cassie Thursday night
Feb 18 at 6:30
for Lucky Quilt Co LIVE
on Facebook
It's BACK - Every Thursday night at 6:30 PM! Join Cassie for a LIVE walk thru the shop, a look at featured items, new arrivals and select sales! Spring is in the air at Lucky!
Click on the Facebook logo to join us:
QUILTING SERVICES





Lucky Quilt Co. is very lucky to have 2 wonderful quilters to provide quilting services for our customers. Both ladies do a superb job and are a delight to work with!



Click HERE to learn more
Where oh where does Cassie go?
It's been said that customers occasionally wonder if Cassie comes into the shop. Oh the hours she spends in the shop..... Just wanted to drop a note and let all of you know that she would love to be in the shop each time it's open to greet and say hello to everyone that comes in, however, as a business owner that has an online store that ships coast to coast, a Facebook Account that has multiple events and as a machine dealer, there are LOTS of tasks to be taken care of behind the scenes. Rest assured that when Cassie is not in the store, 99% of the time she's working behind the scenes getting exciting inventory, orders or events ready for you! She sends hugs to you all with well wishes for peace!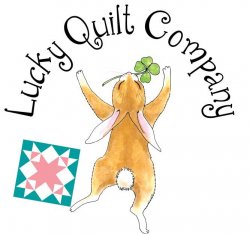 Visit our website and shop online at:
www.lucky2bquilting.com

Store Walk-In Hours:
Tues & Wed 10 - 5
Sat 10 - 3



Nate is at Lucky for Machine Service
Tues & Wed 10 - 5